Xiaomi Mi 5 leak reveals sub-$400 price, Mi 5 Plus may boast record camera resolution
13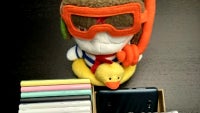 Last year, we were graced with Xiaomi's flagship, the
Mi4
, precisely in this hot month of July, but this year the world's third-largest phone maker might take its time with the
Mi 5
, waiting for
Qualcomm's latest chipsets to iron out their kinks
and availability. We've no doubts that Xiaomi will
have the Mi 5 ready in time for the holiday shopping craze
, though, and the leaks that keep on pouring could mean than an announcement might come sooner than we think.
This latest leak is somewhat more legit than the previous ones, as it comes from a tipster account that has spilled credible beans a few times before, including on the latest Mi prototype. It mostly confirms what we've heard so far about the Mi 5, though, so there is every chance we will indeed be looking into a
5.2" handset with a Quad HD display
resolution - like on the
HTC One M9+
, or the
Xperia Z4v
- as well as a Snapdragon 810 chipset, coupled with 3 GB of RAM.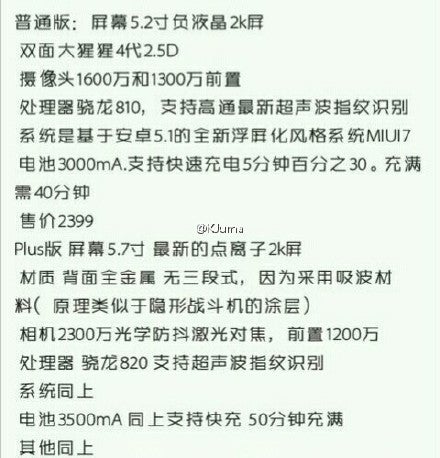 Claimed Xiaomi Mi 5/Plus specs list
The fun part is in the camera department - a hearty 16 MP shooter seems designated for the back, though it's not clear if it will sport optical image stabilisation, and a jaw-dropping 13 MP camera is listed for the front. This could make the Mi 5 the best selfie phone around, though, as our tests with the
Desire EYE
concluded, a high-res frontal cam doesn't necessarily translate into great selfies. The other specs listed are a 3000 mAh battery, which is par for the course, and the whole thing will be running on Android 5.1 Lollipop, covered with the yet-unannounced MIUI 7 interface version. The price listed is 2399 yuan, or about $386, which is pretty good as well.
What about the
rumors of a Snapdragon 820-laden Mi 5
? Well, it seems that this would indeed be called
Mi 5 Plus
, and feature a larger, 5.7" panel, again with Quad HD resolution. The Plus version, however, will not only upgrade on the chipset, but also in the camera department, as it is listed with a whopping 23 MP shooter, as well as a 12 MP selfie cam. These are pretty odd numbers, so they could be rounded down instead of up, and we could be looking at a 24 MP shooter, like on the
Elife E8
, and a 13 MP one again, respectively.
Alternatively, Xiaomi might be using some brand new sensors inside, and we can't wait to see what the Mi 5 Plus will promise in the camera realm. A 3500 mAh juicer should be able to keep the lights on for a while, but the price isn't listed. We'd assume this will be the real flagship with a $600 tag, given the specs, but let's not get ahead of ourselves, until we learn some more about the (allegedly) metal warriors from Xiaomi.