Windows Phone 8.1 SDK reveals new features
91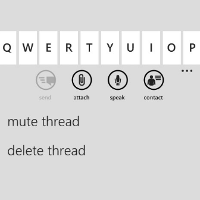 Windows Phone developers working with the Windows Phone 8.1 SDK are releasing some more information about new features they've spotted on Microsoft's mobile OS. One new feature is the burst camera mode that apparently will be available to Windows Phone owners in 8.1. Part of the feature will give users the ability to select when the pictures will be removed from your handset.
Considering that burst shots can quickly fill up the storage on your phone, you can set your Windows Phone 8.1 unit to remove the photos from your device after 1 day, 3 days, 7 days, 14 days, or never. Other new features include one that mutes a thread in a group message, a timesaver if there ever was one. Speaking of saving time, IE 11 will remember the password you are using for certain websites. And Storage Sense lets you use a default location to store certain content. For example, you can save pictures and music automatically to a microSD card, freeing up your native storage for games and apps.
Check out the slideshow below to see some of the new features coming your way with Windows Phone 8.1.
source:
@AngelWZR
via
WPCentral