Will the HTC One (M8), Motorola Moto X, Apple iPhone 6 and Nokia Lumia 1020 go on a bender?
52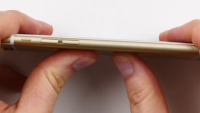 When stories about the
Apple iPhone 6 Plus
bending in user's front pockets
first surfaced, Unbox Therapy's Lewis Hilsenteger was one of the first to sacrifice his personal handset in an attempt to prove or disprove the rumors. Taking what had become his daily driver into his hands, Hilsenteger was able to bend the phone noticeably.
After receiving requests from people asking him to try to bend other models, Lewis gathered together an
HTC One (M8)
, a
Motorola Moto X
,
Nokia Lumia 1020
and an
Apple iPhone 6
to see if they were as vulnerable as the 5.5 inch phablet version of Apple's latest smartphone. First to go on a bender was the Apple iPhone 6. The latter received a small dent, but was "far more durable" than the iPhone 6 Plus. With normal use, Hilsenteger feels that the iPhone 6 will not run into the same problem as its brother did.
The most requested non-Apple phone to test was the HTC One (M8). That was probably because of the use of aluminum on the model, shared by the Apple iPhone 6 Plus. But the HTC One (M8) has a superb build quality. While the sound of glue ripping from the screen was heard, and at first glance it appeared that the glass had popped out, the phone was actually fine. The glass lifted a bit, but came right back into place. As for the Moto X, "
That baby is solid,
" was all that Lewis could say. That device made nary a sound during the attempt to bend it. The Nokia Lumia 1020 also had no give. And as a bonus, an
Apple iPhone 5s
happened to be hanging around and was quickly recruited into the testing, where it did well.
The bottom line? Any type of movement on the devices tested in this video, was not lasting and things quickly popped back into shape once the pressure was removed. And that does beg the question about the Apple iPhone 6 Plus. Will Bendgate end up
as big as Antennagate
was for the
Apple iPhone 4
? Apple sent out rubber bumpers back then, which temporarily solved the issue. But what can it do about a phone that bends during normal usage?
source:
UnboxTherapy
via
TechCrunch