CNN says the Antennagate is the biggest tech fail in 2010
12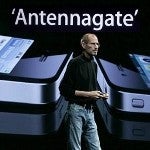 Yet another year is about to pass and this late December period is the time when plenty of summaries concerned with all the brightest and greatest things to grace our world in year XXXX are made. Summaries of the biggest fails and disasters are covered as well, because for good or worse they gather even more attention. So, which event would you rate as the biggest tech fail in 2010? CNN says it's the so-called "Antennagate" on the
iPhone 4
, while at number 3 and number 4 are the
KIN
twins
and the Nexus One, respectively. And if you are curious about the second spot - it's 3D TV.
Here's what CNN has to say on this subjects:
1. iPhone 4 'Antennagate'
Apple drama -- nothing brings out the diehard fans and Cupertino haters quite like this one.
The newest iteration of the wildly popular smartphone was released in June.
By all standards, it's been a huge success. All standards except one.
Some people couldn't actually use it for phone calls.
3. Microsoft Kin
We almost don't have the heart to beat up on the Kins anymore.
Having already served up the short-lived, tween-centric phones in our Thanksgiving all-time tech turkey list, we'll just remind you that the Kin One and Kin Two (Born: April 2010. Died: July 2010) aimed to be the fun, social smartphone for kids but ended up as a sort-of iPhone Lite, with a pricier data plan than their limited functions could justify.
Microsoft seemed happy to move on to the Windows Phone 7 system, so we will, too.
R.I.P. Kin. We hardly knew ye.
4. Nexus One
Speaking of phones that failed ...
Google's Android phone operating system came into its own in 2010, actually outselling phones running Apple's system by the end of the year.
But Google's effort at making their own phone to run it, the Nexus One, fizzled fast.
And here's the thing -- just about everyone who tried out the Nexus One liked it. It had features to rival the iPhone's, and reviewers were kind.
But Google might have gone wrong by originally selling the phone only online. Apparently, folks like to get their hands on their gadgets before paying for them.
Well, this is what CNN thinks on the subject, but frankly speaking, we're much more interested what YOU have to say on the matter, so tell us your opinions about which gadgets failed big time in 2010 with your comments below.
source:
CNN
via
Redmond Pie