Which of the eventual LG G3 features are you looking forward to the most?
49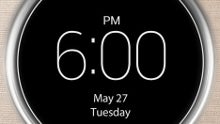 The
LG G3
announcement is fast approaching, and with
yesterday's semi-official confirmation of all of its specs
, we want to ask you which of the stand-out features are you looking forward to most.
To sum it up, yesterday's leaked slides revealed that the LG G3 (at least its Asian version) will sport a 5.5" IPS-LCD display with 1440x2560 pixels of Quad HD resolution, whose 538ppi pixel density would be a record for a brand-name flagship. In addition, LG lists that it is a perfectly calibrated panel, covering a 100% of the standard sRGB color gamut, which bodes very well for its color representation reviews, and your penchant for online shopping.
Furthermore, the displayed 146.3 x 74.6 x 8.9 mm dimensions make the phone only slightly wider than the Xperia Z2, for instance, while Sony's phone has smaller, 5.2" display, so we are expecting a very good screen-to-phone ratio from LG's seasonal flagship. When it comes to the silicon inside, the G3 is shown to sport a Snapdragon 801 chipset with Adreno 330 GPU, paired with the generous 3 GB of RAM. Given that this is the Qualcomm processor of choice for the other seasonal flagships, like the Galaxy S5 and Xperia Z2, we'd have to say that LG has covered its base here, but if the eventual Galaxy S5 Prime pops up with Snapdragon 805, the chairs could be rearranged.
On the back, a 13 MP camera with OIS+ tech will be vying for the shutterbugs' attention, and we'd wager to guess it is a module very similar to the one in the G Pro 2 phablet, which has
proven to be very capable in the camera department already
. The 3000 mAh battery is par for the course with these phablets, unless it translates into a stellar battery life, but we'll only know this when we run our test on the retail unit.
We are also expecting a new, flatter interface, with a
plethora of new functions
, and overhauled visuals, which might be the biggest UI redesign in LG's Android history. Finally, LG already announced a set of unique accessories for the G3, like the
QuickCircle case
with Smart Lighting that takes advantage of the new lock screen, and the
Tone Infinim Bluetooth headset
with record battery endurance, and G3-specific features. Which of those niceties are you looking forward to the most? Take your pick in the poll below, and sound off in the comments.