OIS (LG G2) vs. OIS+ (LG G Pro 2): video comparison
10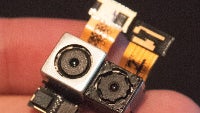 When LG launched its
G2
flagship last year, the industry as a whole had some pretty high expectations. Some seriously bleeding edge internals tend to cause such hype. But one specific part of the hardware sheet of the G2 stood out in our eyes, as it essentially cemented the notion that a new kind of tech is planning on sticking around: OIS, or Optical Image Stabilization.
Of course, LG didn't pioneer OIS in smartphones, much less the underlying tech. The G2 instead followed in the footsteps of devices like the
Nokia Lumia 920
and the
HTC One
. Regardless, LG's extra dime paid off, and the improvements that the 2-axis OIS module brought about were palpable, especially in video capture. This distinction is pretty important -- do keep in mind that stabilization helps with stills as well as video. That's notably true when you're without a tripod, or the use of one is impossible, and even more so when going for macro shots or making use of zoom. In both these scenarios, even the slightest tremble in your hands gets magnified, and this often results in blurry stills.
But we'll be looking at OIS (G2) and OIS+ (G Pro 2) in video, and you'll likely want a good enough reason for that. Nothing fancy here, just the good ol' practical reality: for all intents and purposes, it's pretty much impossible to gauge just how much help an OIS module is, unless you pick a very specific scenario (e.g. low shutter speeds), or can recreate a perfect set of conditions. Last but not least, the usefulness of OIS is really most striking in video, as you can easily spot the difference between shaky footage and optically-stabilized one.
OIS vs OIS+: what's going on here?
Having gone through all of the necessary introductions and disclaimers, right about now would be the moment you start wondering whatever happened to the standard OIS vs OIS+ part of the debate. The more attentive of you will know that LG launched its new flagship phablet -- the
G Pro 2
-- with an appended OIS module. Called OIS+, the new gizmo promises 20% less of that nasty shaky-hands-business, not to mention even clearer stills in both low-light conditions (where shutter speed goes down in order to allow for more photons to enter the lens, so any tremble causes blur), but also standard-ish indoor scenarios with lighting of about 500 Lux. That's a hefty improvement, but how did LG do that?
With OIS+, LG is making use of Hybrid Image Stabilization, which compensates for angular and shift camera shake through velocity and acceleration sensors
It's not exactly simple, and LG is not being very talkative about it (yes, we asked), but it essentially boils down to two appendages: even more code (Electronic Image Stabilization, or EIS), and even fancier tech called Hybrid Image Stabilization (or Hybrid IS). Again, we're not in the know of exactly where LG procured the new modules, but we do know that the technology was initially popularized by Canon in 2009. In any case, it does seem like LG has basically thrown an integrated OIS/EIS combo into the G Pro 2, and the module itself has even seen some hardware improvements.




Angular camera shake (left); Shift camera shake (right)
Hybrid IS, for example, builds upon the 2-axis compensation capabilities of the G2, by incorporating a new acceleration sensor that tries to determine the level of shift-based camera shake, in addition to the already available angular velocity sensor that gauges the extent of angular camera shake. Both angular and shift camera shake sound a little cryptic for the average Joe, which makes for a perfect opportunity to make use of a self-explanatory visual aid (look right).
Beyond the technicalities of the new hardware and software, there's really one thing you need to understand: OIS+ is better-suited to compensate for a wider range of shaky scenarios, and it actually works, as you're about to witness for yourself. That's right, instead of just taking LG's word (or any manufacturer's for that matter), we decided that this kind of comparison would be best served by a little field work. So we took our resident LG G2 and LG G Pro 2 along for a ride, and then a walk, and then also a rather dangerous spin on a bicycle. Obviously, it's unlikely that you'll be wanting to film your bicycle ride-alongs, so the purpose of that last scenario is to simply exemplify that while OIS (and OIS+) is a small miracle in smartphone photography, there is a limit to what it can realistically achieve. Take a look.
Thumbnail image courtesy of AnandTech