Which LTE smartphone to buy?
10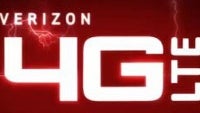 So you're in store for speed and you've heard about Verizon's blazing fast 4G LTE network, but with a couple of very similar phones out there you might wonder which one is right for you? Currently, you have three options to choose from – the
HTC ThunderBolt
, the
Samsung Droid Charge
and the
LG Revolution
. They all share equally sized 4.3-inch screens, monstrous dimensions and heft, and super fast 4G LTE radio draining your battery faster than you can charge it. If any of those is a dealbreaker for you than you'd be better off waiting for the next wave of LTE handsets, but for the time being that's the compromise you have to make with any and all of the devices.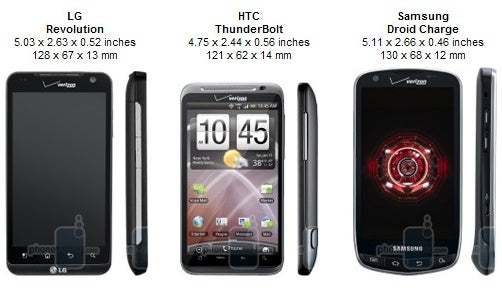 Verizon LTE-enabled phones share a lot of common features.
But at the same time, while the similarities prevail, there are some key differentiators. Price for once – the HTC ThunderBolt just got a large price drop so you can get it for the sweet price of $100 with a two year contract on Amazon Wireless (otherwise retailing for $249.99 on contract), while the recently released LG Revolution and Samsung Droid Charge would set you back $149.99 on Amazon (otherwise retailing for $249.99 and $299.99 respectively) with a 2-year agreement on Big Red. Provided you only care about getting 4G and factoring in all the similarities, the HTC ThunderBolt is the most obvious choice in terms of a price/value ratio.
1. Data speed
All three
handsets are LTE-enabled and this should translate into 5 to 12Mbps of downlink speeds advertized by Verizon and the reality of things is that, while there are some subtle differences, the phones register nearly equal speeds varying by the area. The underlying technology however might be somewhat different. For once, the ThunderBolt uses a separate Qualcomm MDM9600 chip for LTE, the same chip found on Verizon's MiFi modems, that has withheld a couple of months of solid testing. Apart from the mere technicalities, we've reached
speeds of around 9Mbps on 4G
in most cases.
2. Performance
The LTE-enabled trio comes with procesors clocked at 1GHz, but while the Samsung Droid Charge comes with a Hummingbird chip with PowerVR SGX540 GPU, the HTC ThunderBolt and LG Revolution runs on Qualcomm's Snapdragon silicon with Adreno 205 graphics. Real-life performance on all handsets is relatively smooth, but we have to point out that the Droid Charge suffered problems with Flash-intensive websites. If that's not your biggest concern, we'd call a draw in the sheer performance of the handsets.
3. Screen
The
Samsung Droid Charge
stands out in the display department with its Super AMOLED Plus screen with vivid colors. But on the downside, some might find them exaggerated and prefer the more neutral colors produced by an LCD screen. The LG Revolution and the HTC ThunderBolt both feature WVGA displays, but it's the luminosity of the Revolution that grants it an advantage over the ThunderBolt.
4. Design
Picking LTE, you'll have to sacrifice the trendy slimness of recent smartphones and go back to some traditional solid heft and large substantial looks. Picking among the three is a matter of personal preference, but it's the ThunderBolt that has the most weight and solidity among them with its 6.23 ounces of pure weight and 0.56" of thickness. The Droid Charge on its part has different, rounded shapes and elongated body, all in a slightly thinner and lighter package (5.04oz). Finally, the Revolution finds middle ground in dimensions with its simplified traditional candybar looks.
5. Camera
The 8-megapixel snappers on the
ThunderBolt and Droid Charge
produce above average images, but the quality is far from impressive. If you prefer punchy saturated colors, the HTC ThunderBolt will be the right pick for you, while for more neutral tones you might want to get the Droid Charge. The LG Revolution packs a humble 5-megapixel camera, which yields images with cooler colors and less details, so we wouldn't rush getting it if photography is of prime importance.
6. Battery life
If you've never used an LTE phone, you might think that getting slightly more than a day out of your battery is pretty bad. That perception quickly changes as 4G LTE is such a battery drainer that you'd actually feel happy being able to get through the day on a single charge. Most well documented in this matter is the 1400mAh batter of the HTC ThunderBolt which barely gets to 7 hours of continuous talk time, but while the LG Revolution might be newer, its slightly larger 1500mAh juicer actually performs even worse with 6 hours of continuous talk time on a single charge. With both these phones you'll find it a challenge to come back from work with your battery still alive. The
Samsung Droid Charge
is by no means a huge improvement, but - considering the horrific battery life on the previous two - its 1600mAh juicer with 10 hours of continuous talk time gives you some confidence that you'll make it through the day with a functional phone.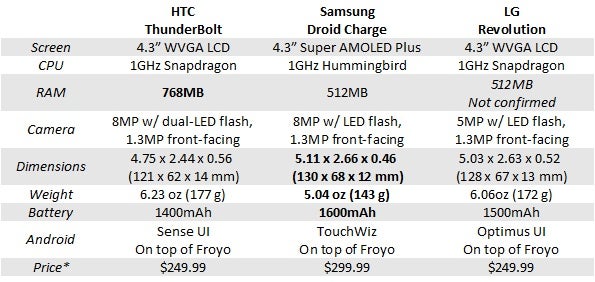 Conclusion:
After factoring in all those little differentiators and considering prices, we can't overlook the fact that at $100 on Amazon Wireless, the HTC ThunderBolt is the best deal among the three. It would be our current pick, but if the vivid Super AMOLED screen and better battery life on the Samsung Droid Charge are of uttermost importance to you, they could tip the scales in favor of the Charge. To better pick between the two, feel free to check out our detailed
comparison of the ThunderBolt and the Droid Charge
. The LG Revolution remains a very close runner-up, but its
Quadrant score
, bright LCD screen and simplistic design could still swing the vote in its favor.
Recommended Stories