Samsung Droid Charge vs HTC ThunderBolt
24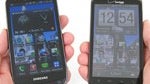 Introduction:
Samsung Droid Charge
in one corner and the
HTC ThunderBolt
in the other. Both can use Verizon's new 4G LTE network, and come with a host of features, such as a large display, 1GHz processor, 8MP camera, and 32GB of storage space. But there are some key differences between these two smartphones, which we will go into detail here.
Design:
Even though both the Samsung Droid Charge and HTC ThunderBolt have a candy-bar
form factor
, their appearance is different. For starters, the ThunderBolt is larger and heavier at 6.23 oz and features a dark charcoal color used on the exterior, as well as a kick-stand on the back, while the Samsung Droid Charge is gray in color with chrome accents and is a bit lighter at 5.04 oz. Even though both devices are made out of plastic, the ThunderBolt feels more sturdy and solid, and features a soft-touch coating on the back that provides a nice grip with your hand, while the Droid Charge feels "cheaper" and has slick plastic that is more difficult to get a firm grip on.
One of the most noticeable differences is in regards to the
display technology
that is used. The HTC ThunderBolt relies on a standard 4.3" WVGA resolution TFT LCD display, which is nothing that we haven't seen before, but the Samsung Droid Charge uses a 4.3" WVGA resolution Super AMOLED Plus display, that is the newest type on the market. Even though both screens are the same size and have 480x800
pixel
resolution, the Super AMOLED Plus display used by the Droid Charge delivers better contrast and color saturation, which allows text to be sharper and images to look more life-like. One other advantage is that the screen on the Droid Charge is much easier to view outside in the sun, while the one on the ThunderBolt is dark and hardly visible.
Located above the display on each device is a
1.3MP fixed-focus camera
, that can be used for taking self portraits and for video chat (if the app supports it).There is also a light sensor and proximity sensor for the display, but the ThunderBolt includes a standard LED notification light that will flash if you receive a new message or alert; something that is missing from the Droid Charge. At the bottom are four navigation keys on the ThunderBolt for accessing the menu, home, back and search, but they are capacitive touch-sensitive and can easily be pressed accidentally, while on the Droid Charge they are physical buttons, which we prefer. On the sides are the volume rocker and power/lock buttons, but on the Droid Charge they are raised more and defined from the surround plastic so they are easier to operate. Both phones also have a microUSB port for charging and for connecting them to your computer, but only the Droid Charge comes with a HDMI video port to connect to a HDTV.
Samsung Droid Charge 360-degrees View: HTC ThunderBolt 360-degrees View: