WhatsApp banned in Brazil again, this time for 48 hours (UPDATE)
10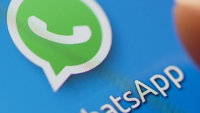 You might remember that last December,
messaging app WhatsApp was banned in Brazil for 48 hours in Brazil
. The messaging app failed to provide the courts in the country with information related to an alleged drug dealer. However, 12 hours in,
another judge threw out the ban
and WhatsApp was once again available for Brazilian users.
UPDATE:
Similar to what happened last year, a second judge from the state tribunal has overturned the ban on WhatsApp, and its 100 million users are free to enjoy the app again.
Now, the messaging app is once again suspended in Brazil, this time for 72 hours. The company was ordered by a court to turn over conversations related to a drug case. Because the conversations are encrypted in a manner that prevents WhatsApp from delivering them, the judge issued the ban by asking the country's telecom companies to prevent the app from working.
Back in March, U.S. law enforcement officials ran into something similar when they
tried to receive information related to a court-ordered wiretap being conducted through WhatsApp
. The messaging app's encryption prevented the Justice Department from getting information from the wiretap.
Brazilian telecom companies are happy to ban WhatsApp. While it is popular and has over 100 million users in the country, many use the app to make local phone calls on their mobile handsets to bypass the local phone companies and their outlandishly high rates. The telecom outfits in Brazil say that WhatsApp's VoIP calling feature is illegal in Brazil.
The same judge who ordered WhatsApp to turn over the chat related to the drug case, Marcel Montalvao, signed for the arrest of a Facebook executive in March.
Facebook closed on its purchase of WhatsApp in October 2014
, with the final price exceeding $21 billion.
source:
AppleInsider