Brazilian court orders WhatsApp shut down for 48 hours in the country
7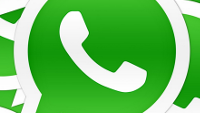 Because messaging app WhatsApp failed to comply with a Brazilian court order back in July, a judge in the country has ordered Brazilian carriers to block the app for 48 hours. The clock started Thursday at midnight, which means Brazilians won't be able to access WhatsApp until Saturday morning. The Brazilian phone companies are happy to go along with the court's ruling.
Because WhatsApp allows users to send text messages and make phone calls around the word without being charged by the phone companies, the Brazilian carriers feel that they are losing the opportunity to collect some revenue. The messaging app's meteoric rise in Brazil has these companies upset. Consider that WhatsApp is the most popular mobile app in the country, used by 93% of those asked in a survey.
WhatsApp was purchased by Facebook in a transaction valued at $21 billion
when the deal closed in October 2014.
Back in July, WhatsApp was asked by the Brazilian courts for information regarding an alleged drug trafficker who had used the app to commit crimes. The trafficker is said to belong to one of Brazil's biggest criminal gangs. WhatsApp failed to comply with judicial orders dated July 23rd and August 7th, both demanding that it turn over the requested information.
"We are disappointed in the short-sighted decision to cut off access to WhatsApp, a communication tool that so many Brazilians have come to depend on, and sad to see Brazil isolate itself from the rest of the world."-Jan Koum, CEO, WhatsApp
On Wednesday, Judge Sandra Regina Nostre Marques found that WhatsApp was continuing its non-compliance with the court, and ordered the 48 hour shutdown.
source:
Reuters