Next up for DOJ lawyers: WhatsApp's encryption
8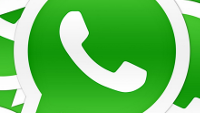 While DOJ lawyers are far from through taking on Apple and its refusal to comply with a court order, the government's legal team is rumored to have another target in sight.
The New York Times
yesterday said that the Justice Department is having trouble executing a wiretap being conducted through WhatsApp because of the messaging app's encryption.
The newspaper says that last week, Justice Department officials discussed what to do in the case that a judge-approved wiretap could not provide any information because of WhatsApp's encryption. Unlike the situation with Apple, which came about because of an act of terrorism, anonymous sources could only reveal that the situation with WhatsApp involves an investigation that has nothing to do with terrorism. Because the data regarding the wiretap is under seal, that is the only background information known about the case.
With U.S. senators said to be working on legislation that will force companies to turn over requested data in a readable form to law enforcement, some government officials feel that this is not the time to be escalating the WhatsApp encryption situation by asking a judge for a court order forcing WhatsApp to turn over data. But others say that this is the time for the courts to update wiretap laws that were last written back when land lines carried the vast majority of calls.
"The F.B.I. and the Justice Department are just choosing the exact circumstance to pick the fight that looks the best for them. They're waiting for the case that makes the demand look reasonable."-Peter Eckersley, chief computer scientist, Electronic Frontier Foundation
This month, WhatsApp was embroiled in another legal situation when the government requested information on a WhatsApp subscriber who was being accused of drug trafficking. "WhatsApp cannot provide information we do not have," the company responded, and that failure to provide the requested information led to the jailing of a Facebook executive in Brazil.
WhatsApp was purchased by Facebook in 2014
for a cool $21 billion.
The messaging app added end-to-end encryption in 2014 meaning that only the intended recipient of a message is able to read it. Prior to that, all messages could be read over WhatsApp's servers, which would have allowed the company to turn over the requested information. Ironically, the government helped WhatsApp develop its encryption technology. The Open Technology Fund, started by the U.S. government to help support technology allowing people in repressive countries to communicate without worrying about surveillance, provided $2.2 million to Open Whisper Systems. That is the company that devised the encryption system employed by WhatsApp.
source:
NewYorkTimes