What method do you use for unlocking your phone or tablet's display?
34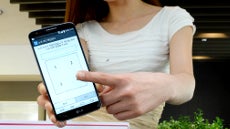 Apple's
Touch ID
started a fingerprint sensor craze, LG recently introduced its
Knock Code
display unlocking method, and there are numerous other ingenious ways to get your phone out of its slumber, and start using it. Ever since the
slide-to-unlock
feature on the first iPhone, manufacturers have been clamoring to differentiate their phones or with sliding, tapping, or other gesture unlocking maneuvers.
Then there is the added protection against intrusion into your phone's or tablet's personal space, in the form of fingerprint sensors,
face recognition
, keying in PINs/passwords, drawing patterns, screen tap combinations, and so on. Some third party apps even go as far as making you solve a puzzle, or play a short quiz before you can reach your homescreen. Alternatively, some people can't be bothered, and have removed the lock screen step altogether, so pressing on the power/lock key takes them straight to the homescreen. That's why we wanted to ask how do you personally unlock your display, and whether you use extra protection like passwords or pattern draw unlocking. Pick your method of preference below, and tell us why did you go with this one in the comments.