Wednesday´s News Bits
This article contains unofficial information.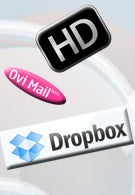 AT&T and Verizon Wireless commit to taking measures to prevent people from texting while driving

. AT&T will come up with educational materials about the risks involved, while Verizon are obviously of the firm opinion that the problem has to be dealt with decisively, by the introduction of legislative amendment that will outlaw the practise across the entire country. The full statements of both companies are available here (AT&T) and here (Verizon).
Оvi Mail gets a minor update

and Nokia Beta Labs has released an application for S60 handsets that allows easier access to the webmail. Unfortunately, this is not an email client, but rather, a shortcut to Ovi Mail. More information can be found via the source link. Nokia Beta Labs
Nokia, Samsung, Sony, Toshiba and Silicon Image have joined forces to develop HD connector for cell phones

. The companies intend to standardize a technology developed by Silicon Image and called Mobile High-Definition Link that allows high-speed data transfers through a compact port. We hope the alliance, called Mobile High-Definition Interface Working Group, releases a mature product really soon, since the number of devices capable of HD video capture is growing as we speak. (via: IntoMobile)
A Dropbox application for the iPhone has been released

. It will allow access to files stored remotely on Dropbox servers. You will be able to listen to your music and watch videos that you have previously uploaded onto the service. Sounds great, right? And the really good news is the app is completely free! (source: TechCrunch)
Software update for the Chinese version of Samsung OMNIA HD I8910 introduces kinetic scrolling to the phone browser.

This is an extra feature that many users yearn after, so we hope it becomes available to people in other regions as well. (source: Samsung Omnia HD blog)