Verizon mistakenly shows a 256GB variant for both the Google Pixel and Google Pixel XL
11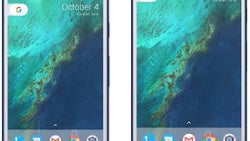 The first smartphone designed by Google is a hit, as you probably already know. The
Google Pixel
and
Google Pixel XL
are both available with 32GB or 128GB of internal storage, although if you go to Verizon's website you might get the impression that a 256GB variant is being offered. To see exactly what we are talking about, head to Big Red's Pixel or Pixel XL page and click on the "Learn More" link in the promo box on the bottom of the page. You will then be transported to a chart that shows the various deals offered for all available Pixel models with the trade-in of certain phones.
In the chart, you will see that there is a listing for a 256GB Pixel and a 256GB Pixel XL, along with prices for both. But before you work yourself into a lather, running over to your local Verizon store with the idea of trading in your
Motorola DROID Turbo 2
, take a breath. Confirmed by Verizon reps, there is no 256GB version of the Pixel or the Pixel XL here now, or on the way.
What happened here is that some one at Verizon simply copied the same trade-in chart that was posted for the
Apple iPhone 7
or
Apple iPhone 7 Plus
since both of those models offer a 256GB variant. You can still take advantage of this deal to pick up a 32GB or 128GB Pixel or Pixel XL. Keep in mind that if you order the 128GB Google Pixel XL,
the phone won't ship until March 3rd
.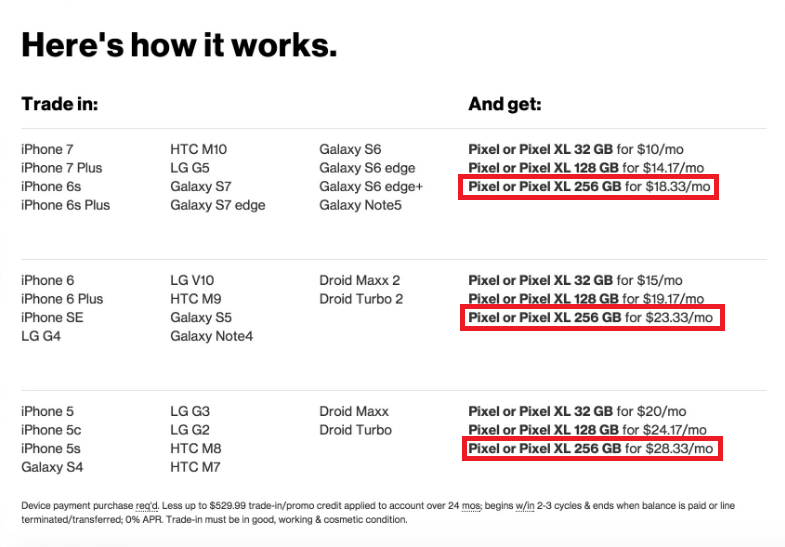 Verizon mistakenly shows that the Pixel and Pixel XL are available with 256GB of internal storage
source:
Verizon
via
DroidLife