Tough display, brittle back: Note 7 vs S7 Edge drop test vindicates pure Gorilla Glass 5
11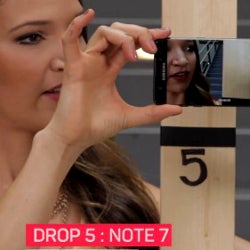 Samsung's
Galaxy Note 7
is the first phone that is protected with Corning's latest
Gorilla Glass 5
edition, while the
Galaxy S7 edge
before it comes with Gorilla Glass 4. The difference between the two generations is, of course, that Gorilla Glass 5 is bound to be stronger, and phones with it can allegedly withstand drops from about 1.6 meters (5 feet) height on hard surfaces roughly 80% of the time, while Gorilla Glass 4 maxes out at a meter, or about three feet.
That is shoulder height and waist height, respectively, which is a pretty significant difference if you are clumsy, and the ultimate generational drop test would be between the Note 7 and S7 edge released in the thin air from such heights. That's exactly what is happening in the video here, and the phones get dropped from knee, waist, and shoulder heights face-down. Curiously enough, both survive the screen side drop, but when hurtled on the sides, the S7 edge display gives up the ghost from the 5 feet height, while the Note 7's screen remains intact.
As the
other Note 7 drop tests
so far showed, however, the Note 7 glass rear is more fragile than the screen, as Samsung probably had to alter the Gorilla Glass 5 alchemy to achieve those
shiny layered gradients
, which eventually might have made it more susceptible to cracking. Still, we'd take spider web-ed back before a
cracked Note 7 display
any time - evidently, Corning's 5-feet-drop claims hold water, provided that the manufacturers didn't tinker with the amalgamation recipe.