Note 7 vs iPhone 6S vs Note 5 drop test goes shoulder-height for Gorilla Glass 5
24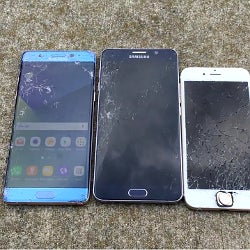 For its new
Gorilla Glass 5
edition that makes a
debut on the Galaxy Note 7
, Corning promises survival rates of up to 80% if you drop your device from shoulder-height, or a tad above 5 feet. That's probably the worse case scenario with handsets, unless you take part in a
Finnish phone-throwing competition
.
We've already seen a
somewhat limited Note 7 fall test with a drop machine
, where it survived tens of face-down drops, and was still usable. These were done from the three feet and change height that is the realm of Gorilla Glass 4 devices, though, so not much to write home about. Today's drop test, however, is in a real-life scenario of phones like the Note 7,
Note 5
and the
iPhone 6s
getting dropped sideways or face down from waist, shoulder, and above head heights.
Funny enough, the rear of the Note 7 cracked on one of the first low-level tests, while its screen survived and was operational even after the highest drop, so it remains to be determined if the back of the phablet is Gorilla Glass 5 as well. In any case, you can be fairly certain that if your expensive Note 7 somehow slips and falls flat on its face during a conversation, at least the screen has a pretty great chance to live, and that is pretty comforting knowing how expensive those curved flexible Super AMOLED display packages can be to replace in the authorized Samsung repair shops.