This Apple Watch band offers 30 hours of extra usage, but costs almost as much as.. an Apple Watch
36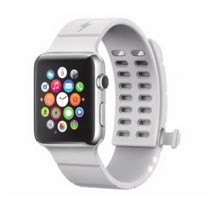 Despite the concerted efforts of Google, Apple, and numerous big-named vendors of recent smartwatches, the comparatively small-time Pebble seems unfazed by the presence of the high-fliers. Sure,
Apple Watch
is more in-demand than anything rolling out on Android Wear, but even the might of the world's
most valuable company
hasn't
really
broken Pebble's stride
. The
Pebble Time
, which is shipping as we speak, smashed yet more records with its most recent Kickstarter campaign, and one of its strongest assets is the 7-day battery life. The inaugural
Apple Watch
, by comparison, currently hovers around the one-day mark, which isn't a particularly impressive show. A new third-party band offers a welcome boost, adding 30 extra hours of usage to Apple Watch, but at the cost of $250, it's another expense atop a device that already costs more than the majority of wrist computers.
The tech community is, for the most part, still searching for a legitimate reason to purchase and own a smartwatch. Seemingly ahead of their time, these devices have yet to convince the majority that they're a necessity as opposed to a luxury, and the sketchy battery retention rates don't exactly help matters. Those who don't wear traditional watches are, at times, struggling to warm to the smartwatch boom, while those partial to a timepiece aren't always thrilled by the idea of charging on a daily basis. The new Reserve Strap for Apple Watch seeks to buck this undesirable trend by packing an extra 30 hours of battery life into a stylish band. But with a price tag of $249, the convenience of extra juice doesn't come cheap.
Comprised of silicone rubber, it's materially similar to the Apple Watch Sport strap, with the exception that it packs three lithium polymer cells around the clasp area. From there, it'll readily charge up your Watch, and the Reserve Strap itself can be charged via microUSB.
Available in both the 38 and 42 mm sizing configurations, it's clear that a decent amount of thought has gone into the Reserve Strap. Color-wise, there are black, white and gray options on offer, and if you are an early adopter of the Apple Watch, the Reserve Strap will no doubt come in useful since it charges while you wear the device.
Despite its strengths and eye-catching LED power indicators, the price is a definite off-put. Given that we, as consumers, remain largely indifferent about the smartwatch in general, a $250 outlay for a smartwatch peripheral seem a little bit rich, particularly when
one could own
an
Asus ZenWatch
or
Moto 360
for just over
half of that cost
.
Still, if you are a Watch owner and would like to pre-order the Reserve Strap, do check the source link below. Bear in mind, however, that it won't ship until November.