Pebble Time raises $20 million on Kickstarter with one more day to go
4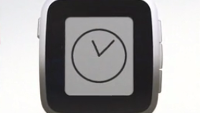 The first time Pebble tapped the crowd-funding market via Kickstarter, it raised $100,000 in the first four hours. It ended up
raising an amazing $10.2 million and receiving orders for 85,000 units
. The Pebble Watch has gone on to make a name for itself in the industry. For the fourth quarter of last year,
Pebble finished second to Samsung with 700,000 timepieces shipped
from October through December. That was topped only by the 1.2 million watches shipped by Samsung.
But here is something even more amazing to chew on. The Pebble sequel,
known as Pebble Time, has raised $20 million on Kickstarter
. That makes it the highest funded project in Kickstarter history. Pebble Time amassed $1 million in funding after the first 49 minutes! The Coolest Cooler, with $13.3 million in pledges, was the old record holder. The original Pebble finished third
with that aforementioned $10.2 million raised in 2012
.
After the original Pebble raised all of that money, the device went on sale. A stainless steel version of the timepiece,
Pebble Steel, was eventually added
. Now comes Pebble Time which features a color e-paper display instead of a black and white screen. There is also a microphone on board, allowing users to record short voice mails. The new model is lighter and 20% thinner, and the Timeline OS lets you look at what you are doing now and have scheduled for the future. It also allows you to look back at the things you've done in the recent past. The Timeline OS will be coming to the original Pebble via an update.
The Pebble Time models will sell for $199 and start shipping in May. Pebble Time Steel will retail at $299 and will start going out in June. As we said, $20 million has been raised for the Pebble Time timepieces and the funding period is set to close tomorrow. By the way, all 6500+ apps for the original Pebble will work on Pebble Time.
source:
Kickstarter
via
Entrepreneur