These are the best smartphones we reviewed in the first half of 2016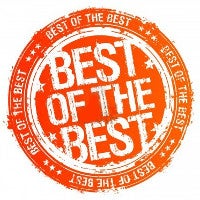 While the likes of Samsung and Apple didn't disappoint in 2015, it's probably fair to dub last year as rather underwhelming in terms of the smartphones makers came up with. The reasons for that ranged from poor battery, through problematic performance, down to simply uninspired design and decision making. In comparison, we tend to feel much better about our choices this year.
Some 30 or so smartphones have come and gone through our offices since the beginning of the year, and those we've pitted against each other a dozen times to determine how they compare deathmatch style. For the curious at heart, here are our best picks of the first half of 2016, in ascending order:
A 9.4 out of 10 for the LG G2. A 9.2 out of 10 for the LG G3. A 9 out of 10 for the LG G4. And an 8.3 out of 10 for the
LG G5
. Notice the trend?
We've always liked LG's work, that much is made obvious by the above summary going back to the truly excellent LG G2. But ever since then, LG's been increasingly pressured by ever improving competitors, not to mention errors on its part. For example, in the rush to a Quad HD display, LG released the G3 with an otherwise great processor that was simply not powerful enough to drive as many pixels. The G4 improved upon that, and the G5 is even better, but despite its semi-modularity, we just couldn't rate it as highly as competing solutions.
"We like the new direction LG is taking with design—both on the hardware and software front..."
Best of all? Invites are no more!
"The OnePlus 3 is in many ways like an HTC phone - great design without much going on in terms of special features. It works well. And at that $400 price, it's definitely something special."
"Considering what it could have been, it almost feels like Apple's intentionally restricting the appeal of the SE."
With the 10, HTC did something we've been hoping for for a while now: great execution of the oft-overlooked basic building blocks of a smartphone, with little to no attempts to woo us with 'extra features' that, more often than not, turn out to be silly and inconsequential gimmicks, not to mention distractions from what's important. The HTC 10 is rock solid because it skips over just that.
"A tool to get the job done and then stay out of the way instead of wasting your time with gimmicks."
Further setting the S7 edge apart from the standard S7 is the larger battery, which ensures better battery life, not to mention that Samsung has further added value to the edge screen through a new, more useful UI for it. This makes the $100 premium on top of the cost of the S7 more stomachable.
"...the Samsung Galaxy S7 edge is a noteworthy phone rich in both the experience and performance – with a price point that's justified against its sibling."
Whatever Samsung's shortcomings as far as smartphones go, at the very least you could never complain that the South Korean giant is being complacent, and the Galaxy S7 proves that yet again. In comparison with its predecessor, the S7 offers water resistance, a better fingerprint scanner, larger battery, and an incredible camera. Performance, too, is better than ever overall.
"...as we look ahead, the Galaxy S7 is the first true flagship to beat in 2016 – there's just no hiding that prestigious title."