Tablets with the highest pixel density
29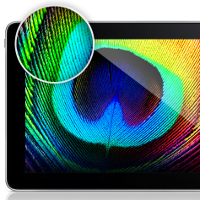 By now, most of the top-tier smartphone and phablet flagships employ displays with crazy-high pixel densities, which make them as sharp as it gets. Naturally, the reason for this over-the-top sharpness are the Quad HD displays that have already comfortably found their cozy place on a number of compelling high-end devices, such as the
LG G3
, the
Samsung Galaxy Note 4
, the
Nexus 6
, and others. However, when it comes to tablets, the current state of affairs is predominantly different. Although
certain tablets with 4K displays exist
(though they're yet to
make their global debut
), their screen size is larger-than-life, thus the pixel density in the end of the day is nothing to write home about.
See, a number of high-end slates have employed displays with resolutions above 1080 x 1920 pixels for quite some time now. Yet, the sheer display real estate of the latter is bigger than the size of your regular 2014's flagship, thus the pixel density deteriorates. In the world of displays, every inch counts. We've already showed you which are the
most-pixel dense smartphone displays
at the moment, but we were also quite curious about the way tablets fare in this everlasting race for high pixel density. Let's check them out.
Huawei MediaPad X1 - 323ppi
Though it could technically be used as a phone,
Huawei's MediaPad X1
still classifies as a tablet. Its 7" display sports a resolution of 1200 x 1920 pixels, which delivers an acceptable pixel density of 323ppi. What's even more interesting is that the display itself occupies roughly 80% of the front panel. This makes the compact Huawei a noteworthy slate, which could easily stand up to larger rivals sharpness-wise. The rest of the Mediapad X1 are pretty decent, too - we are dealing with a quad-core, 1.6GHz Hisilicon Kirin 910, 2GB of RAM, a 13MP rear snapper, and a 5,000mAh battery.
Xiaomi MiPad - 324ppi
In a pre-
Nexus 9
era,
Xiaomi's MiPad
was the first tablet to make use of Nvidia's Tegra K1 chipset and its 192-core Kepler GPU, which provide some pretty serious processing vigor. The 7.9-inch display of the tablet has a resolution of 1536 x 2048 pixels, which puts it on par with the so-called Retina display of the Apple iPad mini 2 and the Apple iPad mini 3. A 6,500mAh battery, 2GB of RAM, and a 8MP rear camera are also aboard the specs sheet of Xiaomi's tablet.
Apple iPad mini 3 - 324ppi
The newest compact slate from Cupertino bears is hardly an upgrade over the previous Apple iPad mini 2, as it's extremely easy to point out the the few new features - apart from the support from Apple Pay and the new gold color option, hardly anything has changed. This means that the
Apple iPad mini 3
comes with a 7.9-inch display with a resolution of 2048 x 1536 pixels, working out a pixel density of 324ppi. This is roughly the same as the iPhone 6, which comes with a 326ppi-dense display.
Amazon Fire HDX 8.9 - 339ppi
Unveiled roughly a month and a half ago,
Amazon's latest offering
to the tablet market sports an 8.9-inch display with a resolution of 2560 x 1600 pixels. Hence, it's display is among the most pixel-rich out there - 339ppi are nothing to write home about on a phone, but in the world of tablets such a sharpness goes a long way. The slate has some nice hardware insides, too - it's the first tablet in the world to feature a Snapdragon 805 chipset.
Dell Venue 8 7000 - 359ppi
It's not out on the shelves yet, but the 6mm-razor-thin
Dell Venue 8 7000
will boast an 8.4" OLED display with a resolution of 1600 x 2560 pixels, working out a pixel density of 359ppi. The rest of its specs are nothing to be ashamed of, as this Android-powered Dell Venue dons a quad-core Intel Atom Z3500, paired with 2GB of RAM, and interestingly enough, 3 cameras at the rear - an 8MP main one and two
RealSense depth-sensing ones
.
Samsung Galaxy Tab S 8.4 - 359ppi
This is it, the
Samsung Galaxy Tab S 8.4
is the tablet that has the most pixel-dense Super AMOLED display and you can actually buy. At 8.4 inches and with a resolution of 1600 x 2560 pixels, this blown-up Galaxy S5-lookalike sports an extremely high (for a tablet, that is) pixel density of 359ppi, making it the king of tablet world. This throne is being shared with yet another Samsung device, the
Galaxy Tab Pro 8.4
, which also has an LCD display with 359ppi in tow. What's next?