Nexus 9 is now official, flexing 64-bit Tegra K1 muscle
63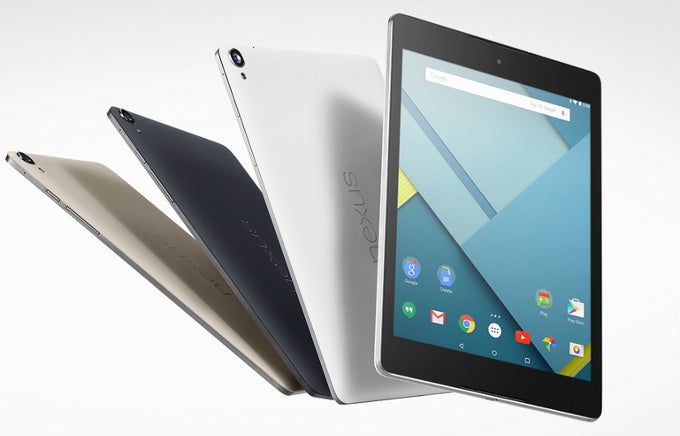 Google has just taken the wraps off the Nexus 9, an 8.9-inch tablet made in collaboration with HTC and featuring a pure Android 5.0 Lollipop experience.
Design: 9" screen, HTC-made, with dual front speakers
The Nexus 9 is made by HTC and it shows: the tablet carries the signature for HTC dual front-firing speakers as its most recognizable design accent. HTC and Google have also settled on using a brushed aluminum frame rather than a full-on metal body in order to keep price down. The 9-inch tablet is not too chubby with a thickness of 0.31" (7.9mm), and it weighs 0.94 pounds (425g) for the Wi-Fi model, and a bit more for the LTE version. The new Nexus tablet will come in a choice of Indigo Black, Lunar White, and Sand (the latter available later on).
The display is quintessential for the media-driven tablet experience, and to be perfectly exact, the one on the Nexus 9 is 8.9 inches in size with a resolution of 2048 x 1536 pixels. This works out to a pixel density of aroudn 288ppi, which means a sharp image with very little pixelization. The aspect ratio is a photo-friendly 4:3, the same one used on rival tablets like the iPad.
Android Lollipop on a tablet
The Nexus 9 is the first device to run on Android L, but it's also the first tablet to run on Google's new platform, showing what the tablet experience looks like.
Nexus 9: powered by Nvidia's Tegra K1, gamers rejoice
Having Nvidia's powerful Tegra K1 on board the Nexus 9 is great as this is one of the first devices to come with this chip. It's in fact the first tablet to ship with Nvidia's new, dual-core 64-bit Denver CPU core architecture.
Denver is an impressively large core with a desktop-class, wide, 7-issue superscalar design, with clock speeds of up to 2.3GHz. It also comes with a large amount of L1 cache: 128K+64K (I$/D$). Interestingly, Denver is rumored to have originally been designed with desktop machines in mind, but eventually it ended up on mobile devices.
The tablet comes with 2GB of RAM, and it also features the Kepler with 192 shader cores that has shown it performs at the top of the charts, which will make the device a delight for gamers.
Nexus 9 battery life
Google's new tablet comes with a large, 6700mAh battery that will last around 9 hours, according to the official specifications.

Nexus 9 price, release date, and carriers
Nexus 9 comes in a choice of black and white, and you can get one of three versions: a 16GB Wi-Fi model for $399, a 32GB one for $479, and a 4G LTE-equipped 32GB version for $599.

In the United States, you'll be able to buy the Nexus 9 on the Google Play Store, Amazon, Best Buy, Staples, Walmart, and others. T-Mobile will be selling the cullular version, with availability starting on November 12th.