Amazon Kindle Fire HDX 8.9 Review
2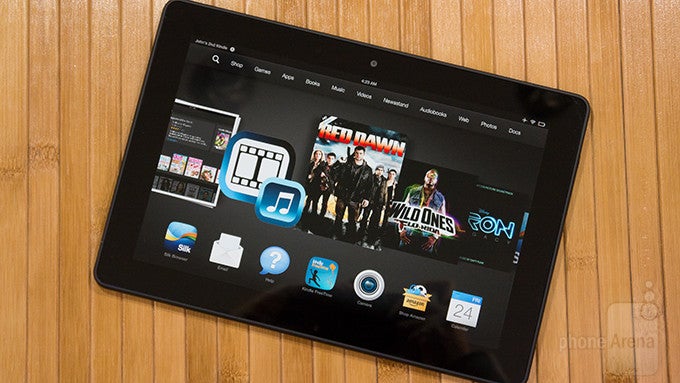 Introduction
We've seen the commercial play on TV several times, so we thought it was about time we checked out Amazon's full-sized tablet offering in the
Kindle Fire HDX 8.9
. Naturally, it complements the smaller 7-inch model we reviewed over this past fall, but it's obvious that this larger model is setting its eyes on taking a piece of the pie from the
iPad Air
. Yes, it has a display that's more detailed. Yeah, it's lighter too. And you can bet it's also cheaper than its esteemed rival, but will the Amazon Kindle Fire HDX 8.9 actually prove to be a viable threat?
The package contains:
microUSB cable
Wall Charger
Getting to know your Kindle card
Design
Simple and sweet, with a splash of glossiness to break things up.
Flaunting the same design aesthetics as its 7-inch counterpart, the Kindle Fire HDX 8.9's design is a humble one to say the least – without coming off as being too cookie cutter. Sure, it would've been swell to see something more daring, but its design serves its purpose in being an affordable thing. We like that its tapered edges help to give us a decent amount of grip when holding it, while its soft touch matte casing keeps it clean looking for the most part. Slightly breaking things up is a glossy strip along the rear, which is adorned with a few angled cuts to give the entire thing a pleasant accent. Indeed, it's super lightweight at 13.55 oz (384 gr), making it feel like we're not holding anything at all in our hands.
Though a bit unconventional, its power button and volume controls are recessed and facing the rear – making it tough for us to try and feel them out. Considering that this is more of an entry-level offering, it doesn't see any additional amenities aside from the usual suspects around its trim. Specifically, they include its microUSB port, various microphones, 3.5mm headset jack, and dual-firing speakers.
One surprising addition, however, is the inclusion of both a front and rear camera, which size up respectively at 1.2 and 8-megapixels. Amazon could've easily omitted the two to save on cost, but as always, it's something we welcome with open arms – and it can come in handy during those inopportune moments.
Display
Utterly detailed. Easily one of the sharpest displays around.
Technically, this isn't a tablet some would vouch as being a "full-sized" offering, seeing that its screen measures up at 8.9-inches. Nevertheless, it's still a larger one than its 7-inch sibling, so it's meant to compete against those 10-inchers in the space. Remarked as having an HDX display, one that's based on LCD technology, there's no questioning the amount of detail it delivers with its number crunching resolution of 2560 x 1600 pixels (339 ppi). It's undeniably crisp, giving plenty attention to even the smallest of details – with no visible pixels to the eye.
Outdoor visibility isn't a problem with this one at all, thanks to its potent 500 nits of brightness. Essentially, it's more than visible even with the sun shining down upon it. Colors are accurate for the most part, while exhibiting very low distortion at wide viewing angles. Don't let the Kindle name fool you, just because this one is graced with one of the best displays out there.
Recommended Stories