Panasonic's Toughpad 4K, the world's first tablet with a 3840x2560 resolution, delayed until mid-February
10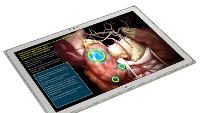 Japanese Panasonic is well-known for its successful, high-quality TVs, yet their involvement in the burgeoning mobile industry has been anything but. Following another local competitor, NEC,
Panasonic chose to withdraw
from the smartphone market back in September 2013 for good. Tablets, however, are seemingly something the company isn't as keen to quit on just yet, as the upcoming Panasonic Toughpad 4K is ambitious enough to try and snatch that world's first 4K panel on a tablet title.
There's a catch, of course. Firstly, the Toughpad 4K was showcased as far back as CES 2012, a near full year back, and the latest reports put the release of the slate at sometime in mid-February. And secondly, while we usually see tablets as portables, this doesn't quite apply to the Toughpad 4K as its 3840x2560 resolution display measures in at the whopping 20 inches (230ppi). This is a device for professionals, folks, and in fact, the entire marketing campaign surrounding the giant tablet has been aimed at such, with Panasonic trying to appeal to health care professionals, architects and designers. This makes sense, as the rest of the hardware on the tablet is also pretty awesome – an Ivy Bridge Intel Core i5 processor, Nvidia GeForce GT745M dedicated GPU, 256GB of SSD storage and 8GB of RAM. All of this pushing the newest, fanciest Windows 8.1 Pro, of course. As the 'tough' bit in the name of the device suggests, the Panaosnic gadget's magnesium alloy chassis is said to be able to hold together after drops from up to 2.5ft (on its bottom). Expected pricing for this rather big bad boy is said to start at around ¥450,000 or about $4400 USD.