T-Mobile variant of HTC One X said to have quad-core and stock Android 4.0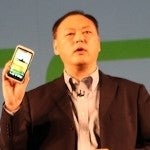 No sooner had the word come down that a version of the HTC One X would be
heading to the States through AT&T
, than the news broke that the version being added to the carrier's lineup would
replace the quad-core NVIDIA Tegra 3 processor
with a 1.5GHz dual-core Qualcomm Snapdragon S4 processor. As we pointed out, AT&T had to make that switch if it wanted the HTC One XL, as the phone will be called, to support its fledgling LTE service. As it turns out, the
NVIDIA Tegra 3 is not yet compatible with LTE connectivity
.
Sprint, too, is expected to offer a version of the HTC One X
with the quad-core processor replaced by the dual-core Qualcomm Snapdragon S4. The latest speculation is that this will be given the code name of the HTC Jewel for now before being launched this Spring as the
EVO HD LTE
.
give up LTE connectivity
just to offer the quad-core NVIDIA Tegra 3 processor? According to a rumor passed along by
Android Guys
, there is indeed one such mobile operator and it goes
by the name of T-Mobile
. The speculation is that not only will T-Mobile's model of the HTC One X get that quad-core Tegra 3 power juicing the phone, the unit will also
make no sense
come with stock Android 4.0 aboard. In other words, on T-Mobile's variant of the phone, Sense 4.0 will not be running on top of Ice Cream Sandwich. While there are many fans of HTC's Sense, there might be quite a number of smartphone fanatics interested in seeing an HTC manufactured phone running stock Android 4.0 using quad-core power. Just remember that until the word becomes official, this is just a hopeful wish for customers of the nation's fourth largest carrier.
source:
AndroidGuys