Survey shows that 19% are interested in buying an Apple iWatch
12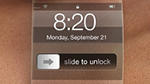 As you probably know by now, Apple is supposedly working on a smartwatch that has been dubbed the "iWatch" by the media. With
100 engineers in Cupertino allegedly working on such a device
, ChangeWave Research surveyed 1,713 people in North America to gauge how much demand there might be for such a product. The data shows that
5% of those asked
are "very likely" to purchase an Apple iWatch for themselves or someone else while 14% are "somewhat likely" to buy such a device.
These numbers bode well for the speculated device. Back in January 2010, prior to the unveiling of the Apple iPad, a survey from ChangeWave Research showed 4% of those asked were "very likely" to purchase a hypothetical Apple tablet while 14% were "somewhat likely" to make such a purchase. Considering the amazing success of the Apple iPad afterward, the fact that the survey showed similar numbers for an Apple iWatch has to make Apple feel pretty confident that the device will receive a
warm reception
if it is launched.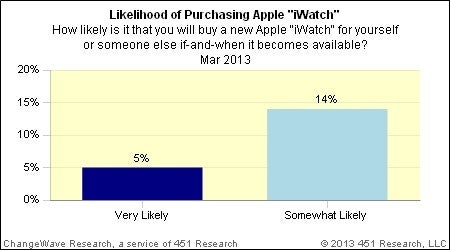 5% of those surveyed are very likely to purchase an Apple iWatch
The main reason to buy an Apple iWatch, according to 18% of those "likely buyers," is
loyalty to Apple
. These are the people who buy devices made by the Cupertino based company because they trust the Apple name. 16% of "likely buyers" said that the convenience of owning a smartwatch is the reason for purchasing the iWatch. 14% want an Apple iWatch because it is "cool" while 11% said that they were interested in how the device would interact with other Apple products.
Since the speculation started about an Apple smartwatch, other tech giants like
Samsung
,
LG
,
Google
and
Microsoft
have acknowledged that they are working on such a device.
"Apple's track record of delivering ultra-convenient, easy to use products with a perceived 'cool factor' is driving pre-release demand for the rumored Apple 'iWatch. While an 'iWatch' doesn't yet exist – and if it ever does it will have to live up to super high expectations – it has the potential to be another huge success for the Cupertino, Calif., manufacturer."-Andy Golub, 451 Research's ChangeWave service. "
source:
AppleInsider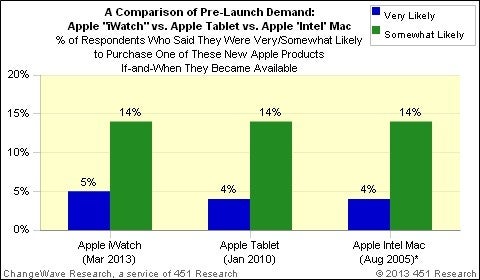 The Apple iPad scored similar numbers in a January 2010 survey