Samsung VP confirms the company is working on a watch
51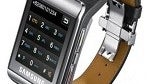 During an interview in Seoul, Lee Young Hee came right out and said it, "We've been preparing the watch product for so long. We are working very hard to get ready for it. We are preparing products for the future, and the watch is definitely one of them."
Lee is the executive vice president of Samsung's mobile business and did not offer any comments about what the watch might do (besides tell time), or how the features would work. No mention was made of a release date or price point either.
About a month ago,
some screen shots emerged of a purported Samsung Galaxy Altius smartwatch
which seemed to be running an operating system called AltiusOS. The interface had an appearance akin to a Windows Phone tile layout rather than any kind of familiar Android widget action. This year, Samsung will be unveiling a number of new devices including an anticipated Tizen OS device.
As to which devices Samsung's smartwatch would work with, it would seem safe to think that it will be a component that would work with Samsung's bread-and-butter, and that is Android. The timing of the device will be interesting too, since we are also expecting Apple to have a watch product sometime in the near future.
For now though it is good news to see that such a product is in fact acknowledged by Samsung and that it is in the works. Unfortunately, we still do not know much about the product in any dimension other than it is a watch. We expect it will be a giant departure and advancement from the
S9110 watchphone from 2009
. What would you like Samsung's smartwatch to do for you?
source:
Bloomberg