Stories you shouldn't have missed this week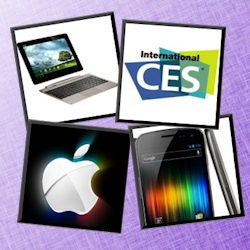 Yeah, we know that we are stating it for the hundredth time, but… CES 2012 is right around the corner, people! It goes without saying that the expo is going to be epic, and boy, are we going to report all about it. We know that there are many among our readers who are excited about the show just as much as we are, which is why we made it easy for all to keep track of our CES-related posts. Just use our recently launched
following system
– it couldn't get any simpler than that.
But what should we expect seeing at CES 2012? Well, nothing short of the best smartphones and tablets the world's most renowned manufacturers have to offer. It wouldn't be surprising if Nokia pulls off quite a show touting its U.S.-bound Windows Phone handsets, while Sony Ericsson is likely to announce their latest flagship smartphone. All in all, it is going to be an event to remember, so stay tuned for our coverage!
In other news, the
Asus Transformer Prime
is getting awesome-er in mere days. That is because it is getting treated to some Ice Cream Sandwich goodness staring January 12. And if that is not enough, the Tegra 3-powered tablet is going to have its bootloader unlocked in the near future for the enjoyment of all of those who are into custom ROMs and homebrew software. Will that bee enough to sooth the pain that those
GPS issues
caused? Only time will tell.
As usual, we posted a number of editorials for your reading enjoyment. The first one in the list deals with seven exciting trends that are going to be worth watching over the course of 2012. We also shared a number of Apple-related predictions of ours and backed them up with some good ol' logic. Another post that is worth checking out introduces you to five fashionable cases tailored specifically for the iPhone.
The following is nothing but a rumor at this time, but if it turns out to be correct, RIM will license its BlackBerry 10 platform to other companies like Samsung and HTC. Sounds somewhat crazy, we know, but apparently, some analysts believe that the two companies have seen potential in RIM's upcoming platform. What seems a bit less crazy is seeing the
Samsung Galaxy Nexus
launching on Sprint. A clue pointing at that direction just recently surfaced on the web, and if it turns out to be legit, we can expect having the smartphone available for purchase through Sprint later this year. Speaking of Samsung, the company's recent financial report showed that its bank account has grown substantially thanks to the success of its smartphones.