Stories you shouldn't have missed this week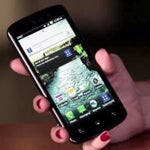 The landscape of the wireless industry shifts so rapidly that sometimes it is hard to keep track of it. But fear not, we at PhoneArena have once again picked the week's most significant stories, and you might want to grab yourself a cup of coffee at this time since the list is pretty long.
The week started with an announcement from AT&T that we were more or less expecting to hear. The carrier unveiled the
LG Nitro HD
, which is to become the third LTE smartphone in its lineup, the first two, of course, being the
Samsung Galaxy S II Skyrocket
and the
HTC Vivid
. Expect finding this Android powerhouse on AT&T's shelves no later than December 4, and if you find it to your liking, $249 is what getting one will cost you.
Monday was also the day when we published our
Samsung Galaxy Nexus
review. As every hardcore Android fan knows, this is Google's latest "yardstick" device and the first smartphone to come with Android Ice Cream Sandwich. We had lots of fun playing around with the Galaxy Nexus and we didn't forget to check out the cool tricks its camera can perform. Besides, we used the opportunity to pair it against other handsets, such as the
iPhone 4S
and the
Samsung Galaxy S II
, and see what the outcome of such a battle would be.
By the way, allow us to remind you that we are hosting the PhoneArena Awards of 2011 and seven of them have already been given out. In case if you have missed them, feel free to take a look. And bear in mind that we have more categories to announce next week, one for each day, and the most exciting ones are yet to come.
On Tuesday we heard a story hinting that a Nokia Windows Phone handset is being readied for the U.S. market and it is to be released in early 2012. All of this coincides with what Stephen Elop himself stated a couple of weeks ago, namely that
Nokia is planning an aggressive comeback to the U.S. smartphone scene
. The source of the story claims that the device in question is the (yet-unofficial) Nokia Lumia 900, and that its specs will be rather high-end, for a Windows Phone device, that is. Of course, that is nothing but a rumor, and whether the claims hold any water or not will probably become apparent no sooner than next year.
There was quite a lot of development in the epic patent battle between Apple and Samsung this week. While in Australia the sales ban on the Samsung Galaxy Tab 10.1 got lifted only to be extended by a week on the next day, in Germany, Apple requested that authorities halt the sales of the Samsung Galaxy Tab 10.1N. For those not familiar with the matter, the Galaxy Tab 10.1N is basically a good ol' Tab 10.1 with a facelift. But wait, there's more! It was mere hours ago when U.S. District Judge Lucy Koh in San Jose refused to grant Apple's request to stop U.S. sales of Samsung Galaxy products. And if that is not enough, do not miss checking out what advice Apple gave Samsung on coming up with some non-patent infringing designs. (spoiler: it is hilarious)
Of course, we did not forget to bring you a fresh dose of editorials. This week, we took an in-depth look of all the Siri-esque applications for Android, and it looks like some of them are actually quite good. Yet some of them you should not even bother trying. Another cool post of ours that is totally worth your attention deals with the Samsung Galaxy Nexus, or in particular, the benefits and drawbacks of the smartphone having no OEM customization. Last but not least, we took the latest version of Google Maps for a spin in order to try out its indoor navigation feature.
Those of you who are into taking photos with their handsets might want to check out our iPhone 4S vs iPhone 4 camera comparison. We took a bunch of photos and videos with the two smartphones under identical conditions, and one of them emerged clearly superior to the other. Can you guess which? Another post that you might find interesting is the 24th edition of "Cool images taken with your cell phone" where you send us your masterpieces and we pick the best ones.
On the creepy side of things, the Carrier IQ scandal reached new heights this week. In a nutshell, there is now evidence that the software, which is apparently running on 141 million devices, is capable of logging pretty much everything that you do on your smartphone – call logs, text messages, you name it. On top of that, the great majority of users are unaware of the fact that Carrier IQ is running on their device, and there is no way for it to be removed. Scary stuff, isn't it?
And for the BlackBerry fans we have what is said to be RIM's BBX device roadmap for 2012. The new BBX OS is what the company will use in effort to close the gap between itself and the competition, and the first device to run it is to be out on March 13, according to rumors. At least five other devices, including a 10-inch PlayBook tablet, are said to be in RIM's plans as well. Bear in mind, however, that the information is based on rumors and could be totally wrong, so it would be wise to not set your expectations too high.
And these, folks, were the stories that stood out from the rest this week. Have a great weekend, everyone!