FCC Chairman Wheeler pours cold water on possible Sprint acquisition of T-Mobile
18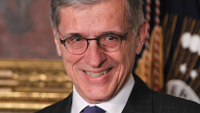 For the second time in a week, a U.S. regulator poured cold water on SoftBank's plan to have its Sprint subsidiary purchase T-Mobile. Last week, it was
the DOJ that was "skeptical" about a deal
that would combine the nation's third and fourth largest carriers. On Monday, FCC chairman Tom Wheeler told both SoftBank Chairman Masayoshi Son and Sprint CEO Dan Hesse, that he too was skeptical about combining Sprint and T-Mobile.
Wheeler said that he thinks the odds are long that any two of the top four U.S. carriers could get regulatory approval to combine. He did promise to keep an open mind. SoftBank and Sprint have been trying to convince regulators that U.S. consumers are being hurt by the strong Verizon-AT&T duopoly, and that only a merged Sprint-T-Mobile could compete with the pair. In Tokyo, a person close to SoftBank said, "
I'm not unduly surprised by the FCC chairman's skepticism. I feel it's a rather typical reaction
."
Considering that 67% of T-Mobile is owned by German telecommunications firm Deutsche Telekom, the company that buys that block will own the mobile operator which has become the darling of the industry. With its strong pro-consumer innovations led by outspoken CEO John Legere, there are many who feel that U.S. regulators want to keep T-Mobile independent so that it can continue to change the face of the business in the states.
With two regulatory agencies in the U.S. not favorable to a Sprint purchase of T-Mobile, the next move will be Son's. He could decide to go ahead with a bid, but he has already stated that SoftBank and Sprint can not afford to pay a big break-up fee if it pulls out of a deal. With that in mind, it would make more sense for SoftBank to try to let this go for now, and wait for a more favorable environment. In the meantime, banks have financing at the ready, waiting to see if Son pulls the trigger.
source:
Reuters