Smartwatch produced by Audi/LG partnership runs on Open webOS
9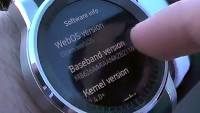 At CES, Audi and LG have unveiled a smartwatch that is the talk of Las Vegas. Why? Well, the timepiece happens to be powered by LG's Open webOS. Originally, it was believed that the wearable was running Android Wear. Audi has been promoting the watch as a device that will allow users to control their Audi automobile. For example, the watch can remotely unlock the doors to an Audi.
The button in the middle opens up a list of apps with icons based on the LG smartphone UI. There is a dialer, and various applications including email, messaging, calendar and music. There is also a fitness application, "LG Health W." A "Find My Phone" feature helps you locate your misplaced handset.
It's been a long road for webOS, perhaps now coming full circle at CES
where it was first unveiled six years ago
. And somehow, it is appropriate that the operating system make some news today. Not only because it is CES, but also
because of the resurrection of the Palm name
, which was announced just the other day.
source:
AndroidCentral