Smaller lines spotted for the launch of the Apple iPad mini
60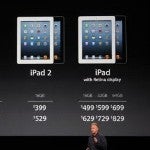 We've already noticed some of the cracks in the facade at Apple including
a stock price that has come down 15% from the peak
set on
the day that the Apple iPhone 5 was launched
. But with
most reviews of the Apple iPad mini positive
, save for the low-resolution screen, you would expect the usual long line of Apple fans to be waiting outside Apple Stores globally for the chance to pick up the device, which went on sale today. Hong Kong was the first of 34 countries to launch the
Apple iPad mini
on Friday. By midday, the number of people waiting on line to pick up a reserved unit at Apple's flagship store
was five
, a sharp drop from the throng that waited on a long line last year to pick up the
Apple iPad 2
. In Australia and Japan, the local media in those countries also reported shorter lines than usual for an Apple product launch.
Apple iPhone 4S
led to violence by the long lines of people waiting to buy the phone
. Rocks were thrown, fights broke out and Apple
halted the sale
of the Apple iPhone 4S in its stores throughout the region.
In the U.S., lines were also shorter than in the past, but some of that could be related to Hurricane Sandy. Outside Apple's Fifth Avenue store in the Big Apple (natch!), 750 people braved the aftermath of Sandy to wait outside the Apple Store for the the iPad mini. Unlike other launches of Apple products, the Apple iPad mini really doesn't bring anything new to the table as Apple felt compelled to produce the tablet to compete against the low-priced 7 inch Android tablets like the
Amazon Kindle Fire HD
and the 16GB
Google Nexus 7
, both priced at $199. At $329, buyers are being asked to pay something of a premium for the Apple iPad mini at a time when iOS is seen as being old and static.
Apple would not reveal how many units of the Apple iPad mini were pre-ordered, but
the tablet did sell out the inventory set aside for pre-orders
, across the board. Still, with the stock price down,
problems in the boardroom
, and the appearance that it needed to play catch-up to compete with those smaller and less expensive Android tablets, Apple appears to be at some level of disarray for the first time since Steve Jobs started to turn around the company with the iMac.
source:
CNN