Apple halts sales of the Apple iPhone 4S in China after fights break out
26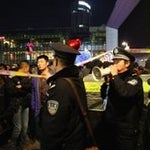 Sales of the
Apple iPhone 4S
have been halted at all of the manufacturer's stores in China as the
large crowds that had been waiting in line to buy the device
became unruly. The problem started when Apple announced that it had to delay the opening of one of its stores in the Sanlitun area of Beijing. A large crowd had already gathered outside the store, waiting to buy the iconic touchscreen device through an official Apple Store for the first time in the country.
Once the delay was made known, the large crowd started throwing eggs and fights broke out with police. Apple then decided
not to open the store at Sanlitun
due to the large crowd and for the protection and safety of those working inside the store. The Cupertino based firm then temporarily halted iPhone 4S sales at all of its retail stores in Beijing and Shanghai.
Apple said that those wanting to buy the Apple iPhone 4S could still purchase the phone online, or at
China Unicom locations
. The carrier is the only Chinese operator that is authorized to sell the Apple iPhone 4S although a recent report said that a
special version of the device
for China Telecom's CDMA-2000 network recently received regulatory approval in China.
Meanwhile, the decision by Apple not to open the store in Sanlitun has left a number of people upset. One man told
Reuters TV
, "
I've been waiting here since yesterday afternoon, then this morning they say they won't sell. They broke customers' hearts
." This past May, the launch of the Apple iPad 2 in China
also turned violent
with four people hospitalized.
source:
BBC