iPad mini pre-orders sold out across the board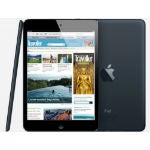 It was a pretty quick sell-out on the 16GB models of the iPad mini, and all models of the white iPad mini, but now it looks like all of the pre-orders are sold out across the board as the Apple website is showing shipping delays on all models.
If you ordered before the online store switched to "Available to ship: 2 weeks", you'll still get your tablet on Friday for the launch. Otherwise, you're in for a wait. There will be stock in stores on Friday, but we'd expect the 16GB models to sell pretty quickly. Still, just a few more weeks and there will probably be a lot more stock, because Apple won't be letting Black Friday go by with all the mini models sold out.