Apple iPad mini first reviews recap
56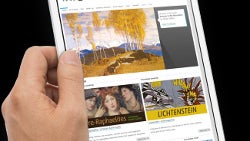 The first Apple iPad mini reviews are out and they are extremely positive. The 7.9-inch tablet by Apple is praised for its premium unmatched design and while some criticize Apple's $329 pricing, the overwhelming feeling is that this device has the potential to end up being in a league of its own rather than compete with existing 7-inch devices.
Virtually everyone agrees that this is the best-designed slate in the more compact 7 to 8-inch form factor. Apple's attention to details allows it to price the product much higher than competing tablets, but while it's the best, this time Cupertino is not establishing a new category as with the original iPad, it's following in the footsteps of others.
If we had to point out one universal gripe, it's the lack of a Retina display. Virtually all reviewers agree that the Nexus 7 has the more detailed screen, and that difference is noticeable.
What makes the case for the iPad mini so strong is the immense iOS ecosystem of apps. All tablet apps scale perfectly well (they look smaller, of course) on the 7.9-inch iPad, and that means you have over 275,000 apps made for tablets. What else do reviewers have to say? Check out our review recap right below to find out.