Samsung's focus on hardware over software could be the problem with its mobile division
99+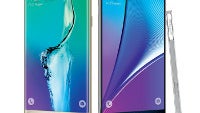 You would think that Samsung's mobile division would be rolling in the dough. It offers four high-end Android phones which look fabulous, and there is no more talk about cheap plastic designs. Yet, Samsung is reeling despite having the largest market share of any smartphone manufacturer. TrendForce predicts that by the end of this year, Samsung will sell 100 million more phones than its chief rival, Apple. But its market share could still fall under 20% this year.
Samsung's mobile division accounted for 39% of the company's operating profits during the first nine months of this year. Compare that to the 68% of operating profits that the division provided in 2013. This year could see Samsung receive the smallest contribution to its profits from mobile since 2010. High-end handsets like the
Samsung Galaxy S6
,
Samsung Galaxy S6 edge
,
Samsung Galaxy S6 edge+
and the
Samsung Galaxy Note 5
might be popular (the Galaxy S6 was voted by PhoneArena readers as
the top smartphone for 2015
), but it is the low to mid-range handsets like the Samsung Galaxy J series that has driven the company's sales this year.
Former employees and executives who have left the company have told
Reuters
that the problem is that the company is more worried about the short term sales of hardware, than it is about keeping customers long term with a unique software platform. Analysts say that without the latter, there is nothing to keep customers from buying lower priced Android handsets.
Samsung Pay could be one offering from Sammy that will differentiate its Android line, but can a mobile payment service actually drive business to a phone? The one major advantage that Samsung Pay has, is its ability to work with retailers supporting NFC and those that use MST (Magnetic Secure Transmissions). The latter works with any retailer that swipes a credit card at checkout, which means that Samsung Pay works with more than 90% of the world's retailers. Samsung still faces competition from Android Pay.
The man who helped develop Samsung Pay,
Dongjin Koh, replaced J.K. Shin as head of Samsung Mobile earlier this month
. That could reflect a shift on the part of Samsung. But the company still has a long way to go to change a corporate culture that is focused on hardware.
One former Samsung employee said that the company places low priority on software, which it considers nothing more than a marketing tool. "Samsung's upper management just inherently doesn't understand software," said the former Samsung employee. "They get hardware - in fact, they get hardware better than anyone else. But software is a completely different ballgame."
source:
Reuters
Recommended Stories