Samsung kicks off Galaxy Note 7 exchange program in the UK
27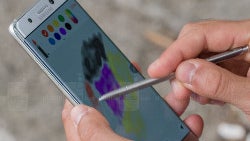 It didn't take Samsung too long to set up a
Galaxy Note 7 exchange program
in the United States, but it's been more than two weeks since the company announced the recall of the smartphone and customers in other countries still haven't been able to exchange their phones through official means.
Today, Samsung officially announced the availability of the Galaxy Note 7 exchange program in the UK. The announcement follows the company's decision on September 2 to halt sales and shipments of the Note 7, after an investigation revealed an issue with the phone's battery cell.
Customers who exchange their current Galaxy Note 7 for a new one will be able to check whether their replacement unit is safe or not by entering their device's IMEI number via a
dedicated website
.
On top of that, Samsung announced that it will roll out
a new software update
to all pre-ordered Note 7 devices in Europe that will limit battery charge to 60%. The update will be pushed to these devices beginning this week (from September 20).
"
Our absolute priority is the safety of our customers – that's why we are asking all Galaxy Note7 customers to act now and exchange today. We would like to apologise to our Note7 customers for not meeting the standard of product excellence that they have come to expect from Samsung and we sincerely thank them for their understanding and patience
," said Conor Pierce, Vice President of IT & Mobile Samsung Electronics UK & Ireland.
The upcoming software update is meant to reduce the risk of incidents and reiterate, once again, that customers who still use the potential faulty Galaxy Note 7 devices should immediately stop using and exchange them as soon as possible with new, safe units.