Samsung: We didn't copy the iPhone to sell smartphones, we are just very good at marketing
60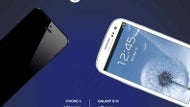 The latest court reports from the epic
Apple-Samsung trial
are pouring in, and they show how the Koreans are trying to convince the jury that the success of their Android phones is mostly due to marketing, rather than
copying Apple's approach to mobile
. Samsung keeps throwing expert testimonies at the witness stand, and the promotional rhetoric came straight from Samsung America's marketing chief Todd Pendleton.
He claimed he didn't even know Samsung made smartphones when he came onboard in 2011: "I
think people knew Samsung for televisions. But in terms of smartphones, there was no recognition for what our product was or what it stood for."
Queue the marketing blitz with a very successful "Next Big Thing" campaign
that draw the ire of Apple
, and a few years later Samsung has become synonymous with Android's winning crusade. That's all there is to it, Samsung's counsel is trying to convince the jurors.
Mr Pendleton even advised that they've put in motion campaigns to deliberately disrupt iPhone launches, pouring money into ads that
mock Apple products
, and
stereotype its customers
, like in the video below. Apple's lawyers used the time they had for cross-examination to
show emails from a Samsung exec
at the time, who said that "
Beating Apple is no longer merely an objective. It is our survival strategy.... There will be a tsunami when iPhone 5 is coming
." All in all, Samsung's general defense trend gravitates towards pulling away from costly patent infringement claims, towards the much less controversial marketing attempts to boost its smartphones appeal.