This is how the variable aperture of the Galaxy S9 works
12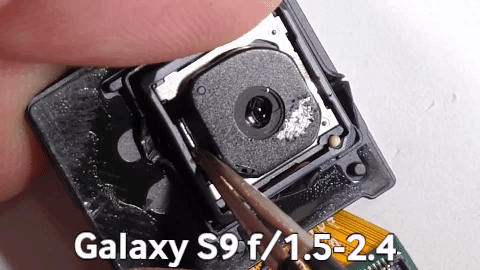 Samsung's
Galaxy S9
and
S9+
have an aperture that can go from record wide for a phone f/1.5 down to f/2.4, depending on the scenario, which is important for extreme low-light shots, or recording high frame rate videos. Thanks to Zack Nelson from JerryRigEverything, and his phone torture chamber, we now know how the system works, too. Upon disassembling the Galaxy S9, he played around with the camera a bit, pushing against the shutter, and found a small lever on the side that actuates the opening and closing, as you can see above. The mechanics of it are pretty breathtaking, considering how confined is space inside any modern smartphone, so hopefully Samsung will keep perfecting and experimenting with variable aperture cameras in the Galaxy line.
When shooting at high FPS, the camera shutter needs to operate at an extremely high speed, which results in less light captured by the sensor. This makes shooting slow-mo videos in darker environments an exercise in frustration, especially when it comes to smartphone cameras, so Samsung equipped the S9 with Super Slow Motion regime, and the aperture to match. This wider f/1.5 aperture comes into play also when shooting in low-light. When the environment is not well-lit, a camera with a fixed aperture is forced to rely on ISO and shutter speed controls to ensure proper exposure of the scene.
The problem with wide apertures, despite all the perks, is that they could result in blurrier-looking photos due to lens aberrations, so Samsung wisely made the one of the S9 and S9+ kick in only when there is less than 100lux illumination around, while in common scenarios the new flagships shoot with run-of-the-mill f/2.4 aperture, which is rather narrow compared to the fixed f/1.7 on, say, the
Galaxy S8
.