Samsung Galaxy Note 6 specs, price, release date, expectations: all you need to know
22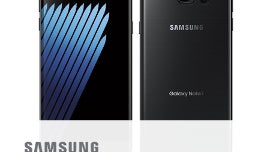 So, back in August 2015, we witnessed the arrival of the
Samsung Galaxy Note 5
, a device that immediately became one of the better large-screen phones you could offload your money on. We like it very much, and so did you - great!
Fast forward to July 2016, and you might be wondering if Samsung is working hard on succeeding that one as best as possible with the... Galaxy Note 6, you presume? That sounds logical, right? True, it does -- after all, 5 is followed by 6 in mathematics. However...
There will be no Note 6!
Indeed, that's not the case with Samsung's business strategy for the current year. There won't be a Galaxy Note 6, there will be a
Galaxy Note 7
instead. Sorry to burst your bubble.
There will be a Note 7 though
The Korean-based company decided to skip the Note 6 and go straight for the Note 7 name so as to bring coherence to the company's high-end lineup and unify the portfolio. Additionally, this will eliminate any confusion among not so savvy consumers that the Note 6 is somewhat lesser in comparison with the Galaxy S7 and S7 edge. Finally, 7 is considered a lucky number in Korean culture. Sorry, 6.
The Note 7 will feature a dual-sloped 5.7-inch Quad HD Super AMOLED display, either a Snapdragon 821 or an Exynos 8893 chipset depending on the region, probably 6GB of RAM, 64GB of native storage with microSD card support, a 12MP rear camera with Dual Pixel autofocusing, a 5MP front-facing camera, a 3,600mAh battery, IP68 water protection, and an iris scanner. The phone will be formally announced on August 2. We expect it to become available for pre-order right away, with prices starting from $800.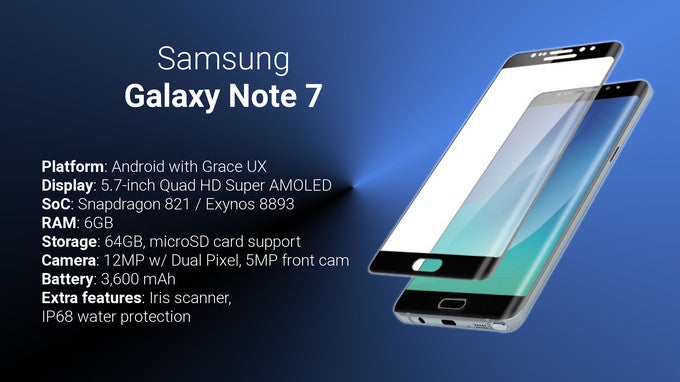 We've got tons of additional coverage regarding the Galaxy Note 7, so feel free to check it all. First and foremost, we suggest you start with our rumor review and go down the rabbit hole next.
Check out our Samsung Galaxy Note 7 coverage: