This is the clearest picture of a completed, black Galaxy Note 7 to date
30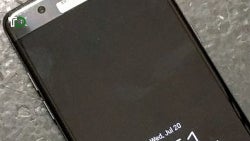 Samsung is about to unveil its high-tier phablet in
just a couple of weeks
and we are all at the edge of our seats to get to finally see it in a completed stage. While we do know what it will mostly look like, and we've seen renders of it
in three different finishes
, we still can't say we've been treated to what the final, functional product will look like in real life.
A recently leaked photo may change that, as it shows us a black
Galaxy Note 7
, up close, in a fairly high resolution shot. Unfortunately, the phone is in standby, but at least we can spot and confirm the always on functionality present.
It's nice to see that the most of the openings above the display have been discreetly covered up, and only the essentials are still visible – the selfie camera, selfie LED flash, and what is probably
the iris scanner
. The rest of the sensors are apparently hidden under the black finish, which is probably slightly transparent — if you recall older front panel leaks, there are a total of 5 holes surrounding the earpiece grille.
The curved edges and stealth black paint sure make it look stylishly sleek. Would you pick that as your favorite or does one of the other two known finishes tickle your fancy more?