RIM looked at switching to Android before deciding on BlackBerry 10
51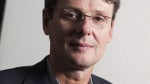 RIM almost became another Android handset manufacturer according to RIM CEO Thorsten Heins. In the end, the company decided to take its chances with BlackBerry 10.
The QNX based OS has been delayed
and is expected to launch sometime early next year. Heins remains bullish on BlackBerry and points out that if you add sales of the all BlackBerry devices together, it would be as though
RIM had a single device with 45 million in sales last year
. That might be an overly optimistic way of looking at sales considering that RIM is laying off employees nearly in half from the 20,000 it once employed, and the company's stock has declined from a peak of over $140 5 years ago to $7.50.
"We took the conscious decision not to go Android. If you look at other suppliers' ability to differentiate, there's very little wiggle room. We looked at it seriously – but if you understand what the promise of BlackBerry is to its user base it's all about getting stuff done. Games, media, we have to be good at it but we have to support those guys who are ahead of the game. Very little time to consume and enjoy content – if you stay true to that purpose you have to build on that basis. And if we want to serve that segment we can't do it on a me-too approach."-Thorsten Heins, RIM CEO
Still, there are signs that BlackBerry is still a thriving company. It does
have over 80 million subscribers
and BBM remains as popular as ever. Heins does wonder about Windows Phone and why Microsoft's mobile OS gets all the credit that it does without proof that its is a success. Noting that RIM isn't as well off as Microsoft, RIM's CEO said that he has just one shot at BlackBerry 10 and that it can't be "an intermediate step." In other words, RIM had to go all out with BlackBerry 10 and Heins says that the results are going to surprise some people. One problem is all of those BlackBerry 7 OS devices that will be hard to sell with the new OS coming. One observer called RIM's task of selling its older models with the new line on the way "
like launching fireworks underwater".
The executive, who has been testing a BlackBerry 10 powered model, says he has been using the new OS and his
handset has yet to reset even once
. With the
New York Times pulling support for its BlackBerry App
, Heins has quite a selling job to do to convince others that BlackBerry will be around. He calls the new OS a once in a decade change that will last the company another ten years. He also blames the media for concentrating on the negatives. Pointing to BlackBerry 7 models, he says that RIM isn't in a trough.
Admitting that
RIM took a serious look at Android
, Heins said that BlackBerry users have a different mission than those using Android. BlackBerry users get things done and don't have time to sit back to "
consume and enjoy content".
And if BlackBerry users do have different needs than Android users, deciding to go with BlackBerry 10 instead of Android could prove to be the best move that RIM's CEO has ever made. At least with BB10, RIM can rake in the money from
licensing the OS
, something that Heins admits that the company is looking at.
"
You could think about us building a reference system, and then basically licensing that reference design, have others build the hardware around it – either it's a BlackBerry or it's something else being built on the BlackBerry platform. We're investigating this and it's way too early to get into any details. We have to also model this from a finance perspective – that's why we're working with the financial advisers to see if we do this where would it take the company. Either we do it ourselves or we do it with a partner. But we will not abandon the subscriber base.-Thorsten Heins
source:
Telegraph
via
Phandroid
Recommended Stories