RIM CEO admits they are "actively investigating" licensing out BB10
8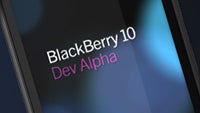 In a press meeting at BlackBerry World, Research in Motion CEO Thorsten Heins shed some light where RIM is at when it comes to licensing out
BB10
, and what such a move might look like. Perhaps most importantly, Heins confirmed months of rumors by admitting that they are "actively investigating" their options, apparently soliciting
outside advice
on how to best go about it.
Heins also seems to understand that the
main challenge
to successful licensing is to make sure that people actually want a BB10 handset. He indicated that working with his teams to prove BB10 is the most important thing they can do, and we wholeheartedly agree with Mr. Heins on that evaluation: ship a product that is really desirable and the licensing will come.
Heins also hinted at what direction they are looking to take with licensing – he specifically said that they were not yet committed to licensing the platform out to
direct competitors such as Samsung
. He also discussed the need to figure out how they would partition the OS into market segments. Hein specifically addressed the low-end market, saying:
Blackberry 10 is a high-end performing mobile computing platform. There's certain elements in such a platform that define your cost position. We need to work on this and it goes back to the question that we had before, where is the right entry point for licensing partnerships?
This is a fascinating and nuanced take on the situation; it would seem that RIM wants to make the high end (and more profitable) handsets under the BlackBerry name, and is considering licensing out a stripped-down version for low-cost handsets. Given the importance that customers in developing markets place on messaging, it's not hard to imagine the ZTEs of the world being willing to make an inexpensive BB10 phone for those markets.
It appears to us that Thorsten Heins may have a better grip on RIM's predicament than many pundits believe. His intent to focus on making BB10 a winning product above all is undoubtedly the correct choice, and the tiered licensing plan they are investigating could carve out an important niche for them in value-centered smartphone sales while they concentrate on a smaller number of hero devices for the high end.
It's
very late in the game
for RIM, but strong execution would give them a decent chance. And ultimately that's what this will really come down to: Can they deliver a winning product this fall?
source:
The Verge