Project Glass camera shown off, Google+ head poses with the glasses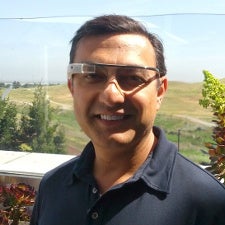 Google's Project Glass intiative aims to make sci-fi a reality, and while we haven't heard about the glasses for a while, now Google teases us with another
picture taken straight from a prototype
, showcasing an amazing use-case scenario. Sebastian Thrun, project leader at the search giant, snapped this picture while playing with his son and it's a brilliant illustration of what you can do when you have a POV camera on your head ready to fire at any time.
We don't exactly know how Project Glass will progress and what will it be good for, but taking pictures is definitely one thing that will lure many into getting one. Plus, you'd be wearing an irresistibly cool futuristic glasses.
Also, Google+'s head Vic Gundotra shared a picture of him wearing a Project Glass prototype, and we guess it's not just for fun, and the glasses will offer some kind of deeper Google+ integration. That's no surprise, of course, as the search company is doing everything it can to support its social network. Check out the picture below, and let us know - are you ready to give your money to Google for Project Glass? Do you like what you see?