Phones with the new LTE Snapdragon chipset to be as fast as Xbox 360 or PS3 in 2012
5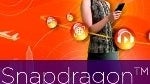 That title caught your attention, didn't it? Qualcomm, the company that has its 1GHz mobile chipset in a lot of high-end Android phones, and is also the silicon of choice for all Windows Phone 7 handsets, clarified for investors its roadmap for the Snapdragon mobile chipsets family. The latest dual-core generation is dubbed MSM8960, and will offer five times the performance of the first Snapdragon on a quarter of the power consumption, thanks to another die shrink to 28nm, and some architectural tweaks.
The graphics performance of the beast will be
comparable to what the Xbox 360 and the PS3 can pump out
nowadays, which is just stunning. The clock speeds this unit can reach stay secret for the moment, but we just had
T-Mobile G2
's 800MHz second-gen Snapdragon, produced with the 45nm method,
pumped up to 1.9GHz
the other day, a tribute to the overclocking flexibility of Qualcomm's silicon.
Now, it probably won't beat
Samsung's Orion chipset
in the graphics department, but the advantage of the Snapdragon family is that it is a true system-on-a-chip, integrating all the baseband and connectivity radios you can think of in one neat package, and Qualcomm is able to bring it fast to market.
MSM8960 will support all current 3G bands plus a multi-mode LTE
, meaning that it will be a truly global chipset, that will simply work on any network worldwide. The only downside we see is that it cannot come soon enough - sampling will begin next year, which means that it will be shipped to manufacturers and enter phones or tablets in 2012.
Here's to Crysis 2 at 60fps on our smartphones in 2012, provided the civilized world still exists by then, so we can buy a spare battery.
source:
Anandtech
Recommended Stories