First look at Samsung Orion ARM Cortex-A9
10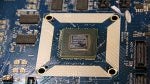 We don't know if many of you know where the Orion constellation is on the clear night sky but we bet that you would like to take a look up to Samsung Orion. The monster of a chip might well dominate the mobile industry's future skyline with an ARM Cortex-A9 dual-core 1GHz CPU and a quad-core Mali 400 GPU on board. The hot new chip has twice the brain power and allegedly five times the graphical oomph of Samsung's Hummingbird. We are yet to see if it will make a showy appearance on Samsung's newest flagship this year or winds up on an all new Galaxy Tab or Galaxy S models next year. However, the likely scenario is that we will all have to wait up until 2011 to see the technology live.
To illustrate how much of a game-changer this might be, let's look at some numbers. CPU-wise most top-end smartphones like the iPhone 4 use Cortex-A8 CPU clocked at around 1GHz which, we found running pretty fast. Now, Cortex-A9 sports some new features for an ARM processor like out-of-order executions and two core units. Orion tops the cake with clock speed of up to 2GHz and the GPU power of Mali-400. For
even more insight read our initial impressions here
.
Actually the news does not end here. ARM just introduced the next-gen Mali-T604 embedded GPU, which promises two to five times better performance over Mali-400. Open CL and DirectX are all supported and it is set to come out along with the ARM Cortex-A15 "Eagle" CPU in the bright, bright future. That's when we start dreaming about Crysis-like graphics. Impressive? Now think battery life if you got too excited and don't forget to comment.
source:
Engadget