PhoneArena Awards 2015: Best Smartwatch
51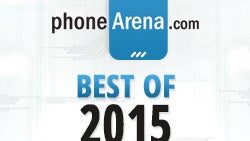 Guys, we're definitely, most certainly living in the future – take a look around you, and it should be clear to see why. We have holograms performing at concerts, we have self-parking cars, we have the knowledge of the world accessible from our phones, we have tiny yet smart computers that strap to our wrist. The latter type of gadget is known as a smartwatch, as you surely know.
Now, wearing high-tech electronic gadgets isn't exactly a new concept. In 2001, for instance, IBM showed us a Linux-powered watch, and in 2004, Microsoft released one that could deliver stocks, news, sports results, and more bits of data. It is now, however, that smartwatches are starting to make sense. They have a great number of uses and come at a broad range of price points. No less importantly, modern smartwatches do look like actual watches, not like contraptions inspired by the Ninja Turtles Communicator. In other words, a non-geek wouldn't mind being seen wearing one of them.
But what are the best smartwatches out there? Which were the models that impressed us the most this year? Well, these are the questions we'll answer today. We're officially kicking off our PhoneArena Awards of 2015 series, and today we'll honor the year's best smartwatches. With companies like Apple, Samsung, LG, Motorola, Asus, and Huawei all in the race for the consumer's wrist, it was not easy to pick the best smartwatch of the year, but in the end, we agreed that the title belongs to the...
Samsung Gear S2 and Gear S2 Classic
Many are the reasons why the Samsung Gear S2 and Gear S2 Classic deserve to share the spot as 2015's best smartwatches. They're fast, good-looking, well-designed, and not outrageously expensive. But perhaps most importantly, they have the true potential to appeal to both ladies and gentlemen, as well as to both tech aficionados and regular folks willing to give a smartwatch a try.
Now, there's no denying that the Samsung Gear S2 and Gear S2 Classic are a bit pricey. The two cost $300 or more as of this writing. In exchange, however, you get one well-made smartwatch – one that's fun and convenient to use thanks to its circular user interface and rotating bezel for navigation, one that doesn't mind getting wet under the rain or during an intense exercise, one that will track your activity (or lack thereof) with its multitude of sensors, one that will last you way more than a day per charge. All in all, if you want to treat yourself to a smartwatch this holiday season, the Gear S2 and S2 Classic are the two you should first take a look at... unless you're an iPhone user. A drawback of Samsung's smartwatches is that they can't be paired with iPhones, at least not yet.
Runner-up: Apple Watch
Although it did not receive as much praise from us as Samsung's offerings, the Apple Watch remains one of the best smartwatches money can buy. And it is probably your best pick if you're already an iPhone owner – most other smartwatches, the Gear S2 included, can't be paired with Apple's smartphone.
As other Apple products, the Apple Watch does not come cheap, especially if you wish to customize yours with a fancy wristband or if you're after the larger, 42-millimeter model. But Apple's wearable is packed to the brim with advanced technology – a Force Touch display that senses different levels of pressure, a Taptic Engine that gently "taps" your wrist when a notification arrives, and a set of highly-precise sensors to track your activity with, to give a few examples. Then come the apps – plenty of them are available for download, together comprising the richest smartwatch app ecosystem right now.
But if there was something we could change about the Apple Watch, we would have surely asked for a more inspiring design. It's a good-looking piece of hardware, but not one inspiring enough given the price. Oh well, perhaps the rumored 2nd generation of the Watch will take care of that.