Microsoft Surface Pro 4 hands-on
27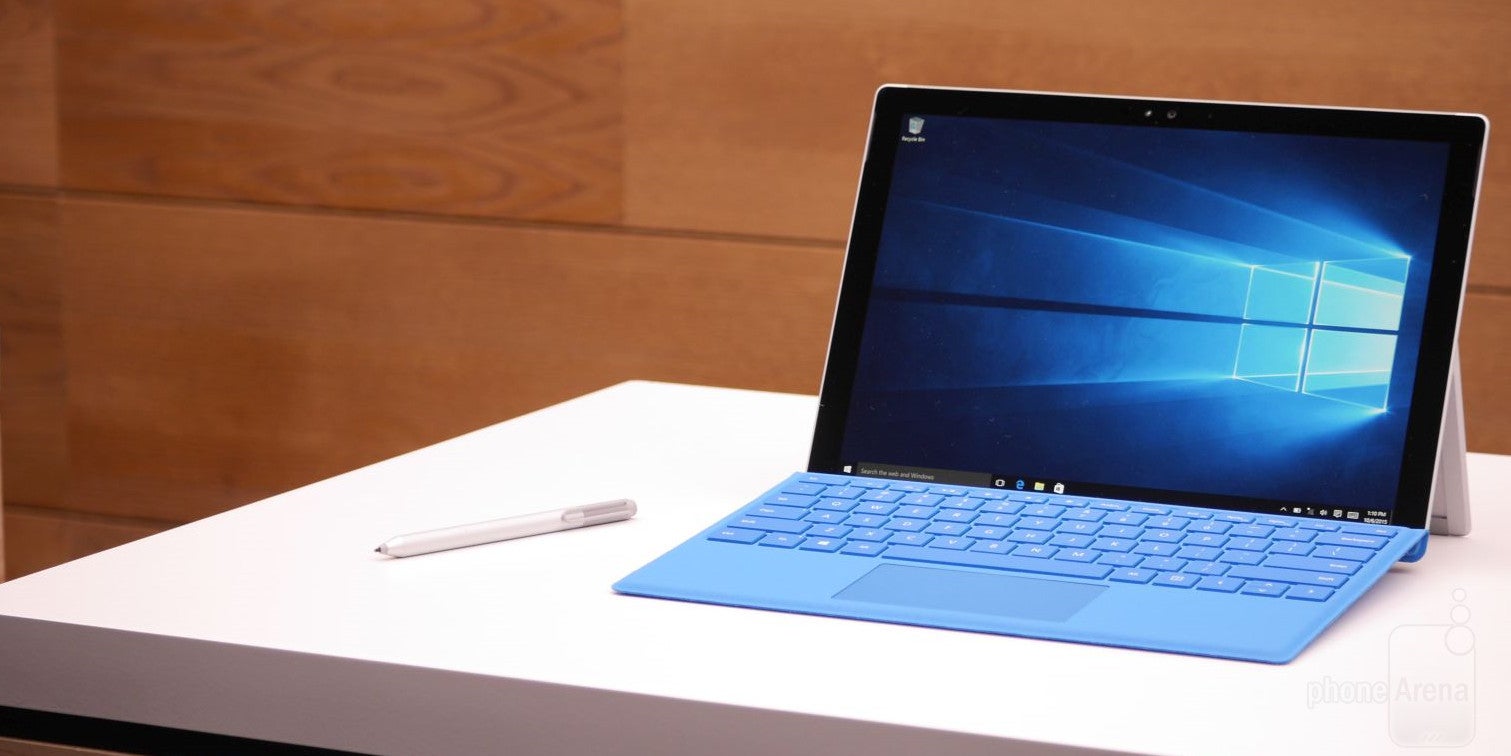 Hey guys, we just got some hands-on time with the new Surface Pro 4 and we're going to share our impressions! On the, err, surface, the Surface Pro 4 doesn't look drastically different from its predecessor, but that's only upon some initial impressions. Like they say, the devil's in the details!
Design
Although it feels familiar, the Surface Pro 4 is further refined and is, obviously, an impressive device that looks and feels premium with its metal build and thinned-out screen bezels. The tablet is a bit thinner and lighter than the Surface Pro 3, so if you ever held one and were left with positive impressions, the Pro 4 will be even nicer to you. The tablet is made of an aluminum alloy and feels sturdy and solid, but not heavy or bulky. Overall, the Surface Pro 4 is a classy bit of design work and one of the nicest looking tablets out there, period.
Display
The Surface Pro 4's 12.3-inch screen is just 0.3 inches bigger than its predecessor's, which is a difference that's more felt than seen. You simply have a little bit of extra screen real estate to appreciate, which is always nice! The 3000 x 2000 resolution screen (3:2 ratio) is big and beautiful, with its pixel density of 267 pixels per inch making it appear very crisp at the typical work distance. Indeed, Microsoft packed a ton of pixels in this thing, and we can already tell that doing work or enjoying multimedia will be a blast on it!
Hardware
As typical for the Surface Pro series, the fourth-generation tablet uses Intel's latest Core M processors (Skylake) and their integrated Iris Pro graphics. According to Intel, the improvements in the latest generation Core chips could contribute to a 50% increase in 3D graphics performance, although one still shouldn't expect to play the latest hi-end games at maximum detail. Still, the Surface Pro 4 has no trouble handling 4K video at 60 frames per second, and it's actually able to output it to 3 separate 4K displays simultaneously, should you need to do that. The Intel Skylake CPUs is kept company by up to 16GB of RAM and up to 1TB of storage! Microsoft promises a 9 hour battery life out of this thing, but we'll have to see how this pans out.
Stylus
The Surface Pro 4 sports a new and improved Surface Pen. The display an sense 1024 levels of pressure applied from its tip, and the Pen itself has improved precision while boasting a record 1-year battery life. Rather than housing it in a silo, MS simply let the Pen attach itself to the tablet via magnets, which is a simple and clever solution that we genuinely like. The pen itself is just fine to use, feeling almost as natural and response as writing with an actual pen or pencil on paper.
Camera
The Pro 4 has a reasonably competent camera setup, with an 8-megapixel autofocus cam on the back and a 5MP unit on the front. These will suffice for more than basic photography and video, as they have the fidelity and fast operation to cover that and all camera usage scenarios we could think of. Then again, shooting photos and videos with a huge 12.3-inch tablet isn't exactly an idea we're keen on, but it's gracious of Microsoft to put in these cameras, rather than a pair of afterthought units. It makes sense, as the typical Surface Pro user will be probably interested in taking photos of documents and presentations instead of sunsets and beaches, and making video calls rather than selfies.
Expectations
Starting at $900 for the base model, the Surface Pro 4 is a "power user" tablet that will receive a warmer greeting from enterprise types rather than casual consumers. However, the price tag is justified by the functionality and premium hardware offered in the device.
We can easily imagine business users that are after a reliable tablet which integrates seamlessly with the Windows ecosystem deployed at work going after the Surface Pro 4, but Microsoft is yet to put out a tablet targeted towards the typical consumer.