PhoneArena Awards 2014: Best value-for-money smartphones
60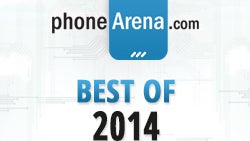 Earlier this year, we
asked our readers
whether they always picked a flagship smartphone, or preferred hunting down the best value-for-money ratio when buying a new phone. Many were the folks who stated that they always went for a flagship device, but the number of buyers who prioritized value for money was even greater.
Of course, anyone would love to have the latest, greatest, most capable smartphone of them all, but at the end of the day, most people also have a budget to fit into. That's why phones that provide outstandingly great bang for the buck are usually treated to a lot of buyers' attention. And they must be honored.
This brings us to today's category in our PhoneArena Awards of 2014 series – smartphones with best value for their money. Many were the devices nominated for the top spot, but ultimately, we had to shortlist the best three among them. And here they are.
Motorola Moto G (2014)
Hardly a surprise, we have the 2014-edition
Motorola Moto G
at the top of our list. It retailed for a mere $180 at launch, yet was (and still is) perfectly capable of meeting the needs of the unassuming smartphone buyer. Assets like its 5-inch, 720p display, quad-core Snapdragon processor, 8MP camera, and bloat-free Android experience made it the no-brainer choice for anyone in need of a great, yet inexpensive Android handset. Sure, the Moto G (2014) is not a flawless handset, but being one is not its mission. It is smartphone designed to be as affordable as possible without this hurting the overall user's experience. And it gets its job done pretty darn well.
Nokia Lumia 630
While not the cheapest Lumia we had the chance to review this year, the
Nokia Lumia 630
was surely the one with the best value-for-money ratio. Released carrying a price tag of around $160 off-contract, it was an ideal phone for anyone who needed a hassle-free, full-featured smartphone at a price as low as possible. Money spent on a Lumia 630 got one a decent, 4.5-inch screen, a Snapdragon 400 processor, and a 5MP camera, all topped off with the fluid Windows Phone 8.1 experience. One coulr even get LTE connectivity for a few bucks extra. Today, some six months after the Lumia 630's launch, the phone can be had for as little as $130 outright, which makes it a great pick in the entry-level segment.
HTC Desire 816
The
HTC Desire 816
was released for around $400 outright, which might seem like a lot given the prices of the two phones we highlighted above. But when you take into consideration what the phone brought to the table, you'll realize that HTC's mid-range flagship was an excellent buy at launch (and an even better pick when it landed in the U.S. for $200). It still is a phone worth considering with its huge, 5.5-inch screen, Snapdragon 400 SoC, front-firing speakers, and 13MP camera. Although its successor has been announced already and is shaping as no less attractive of a smartphone, with an upgraded processor, more RAM, and an even catchier design.