PhoneArena Awards 2014: Best cameraphones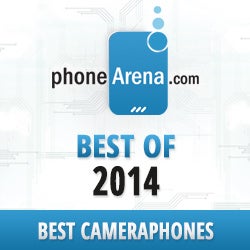 Did you know that the world's most popular camera is not exactly a camera? It is a smartphone, actually – the Apple iPhone. This should come as no surprise since smartphone cameras have been getting better and better, rivaling their point-and-shoot counterparts in terms of quality and features. Besides, our smartphones are conveniently within reach whenever we need to capture a special moment. Dedicated digital cameras aren't always as close.
Now, the iPhone is definitely one of the best cameraphones out there, and its image quality is one of the key factors contributing to its popularity. But throughout 2014, we had the chance to review a broad range of competitor cameraphones, including some which were even better than Apple's pride and joy. This brings us to today's category in our PhoneArena Awards series. Ladies and gents, we give you the year's best cameraphones.
Samsung Galaxy Note 4 and Galaxy S5
Since the days when the Galaxy S II was in its prime, Samsung's high-end phones have ranked among the best cameraphones on the market. That's why our expectations for the Galaxy S5 and its 16MP camera were set high when we got the chance to review them. And they were definitely met. As a matter of fact, it has been some 8 months since then, and we still think that the Galaxy S5's camera is a force to be reckoned with. Its super-fast autofocus, rich arsenal of camera features, and sharp, detailed images make it a top contender in this race. But alone at the prime spot it is not. The Samsung
Galaxy Note 4
is also sharing a piece of the gold thanks to its no less capable 16MP camera. The Note 4 takes everything there is to like about the Galaxy S5's camera, filters out the imperfections, and tops it all off with optical image stabilization. As a result, Samsung's phablet takes amazing photos in day or night, with tons of details and pretty colors. Long story short, the Samsung Galaxy Note 4 has what's quite possibly the best camera on a smartphone yet.
iPhone 6 and iPhone 6 Plus
As we stated above, the iPhone is an awesome cameraphone, and it definitely deserves to be honored as one of the year's best in the category. What makes it truly great is the simple-to-use interface, the quick operation of its camera software, and, of course, the commendable photos that it takes even in tricky situations. In addition, the
iPhone 6
and
iPhone 6 Plus
prove that the number of megapixels isn't all that matters in a camera. Amazing results can be achieved with only 8 megapixels when you have quality camera hardware and the well-tailored software to control it.
Oppo N3
And here, at third place, is a phone you probably weren't expecting to see in this post – the Oppo N3. Yet it is a worthy cameraphone, in our opinion. First and foremost, its 16MP camera with Schneider Kreuznach optics shoots great images, as we found out while doing our review. Then there's the variety of unique features you get to play with, including Oppo's Ultra HD mode, RAW output, and the automatic panorama mode, which uses the motorized swiveling camera to do the panning for you. Speaking of which, the phone's camera can be easily rotated at up to 206 degrees. This allows it to act as either a rear- or a front-facing cam, depending on what you're trying to shoot – a beautiful scenery or a selfie with your buddies. Either way, your images are going to turn out splendid.