PhoneArena Awards 2014: Best Smartphones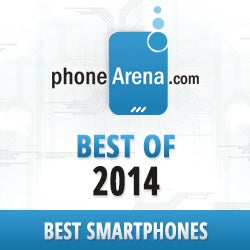 Have you ever wondered how many new phones have been announced this year? Well, with all the minor and major manufacturers in business worldwide, arriving at the exact number would be a challenging task. On the other hand, we can easily provide you with statistics on how many new handsets have made it into our database over the course of 2014. The figure stands at over 600 and includes phones of all shapes and sizes – anything from the basic-yet-cheap
Nokia 130
to the pricey and feature-packed
Samsung Galaxy S5
.
Neither of them is PhoneArena's phone of the year, however. Instead, the honor goes to...
Apple iPhone 6
Many were the handsets racing for the category's top spot, but Apple's smartphone was the most deserving among them, in our opinion. Of course, some of you will argue that there are smartphones better than the
iPhone 6
– smartphones with better specs and broader feature arsenals. To them goes the reminder that the overall user experience is what makes a smartphone great or not, not the resolution of its display or the megapixel count of its camera. And that's where the iPhone 6 shines – it is thin, light, and well-designed, so using or admiring it is a pleasure. It is easy to operate and highly reliable, with hardware and software working together in seamless
harmony
. It packs an awesome camera that snaps excellent photos with ease. It has access to the best mobile apps, games, books, and media provided by Apple's app ecosystem. And let's not forget
iOS 8 and the multitude of key improvements
it brought to the table. All in all, the iPhone 6 is a phone that simply works and does well anything it is supposed to. It may not be a perfect smartphone, but it reaches closer to that point of perfection than any smartphone we've seen yet.
Motorola Droid Turbo
As we just implied, specs aren't all that matters in a smartphone. But if a smartphone maker goes above and beyond by putting the best available hardware in their creation, they will definitely get the crowd's attention. Take the Motorola Droid Turbo as proof – with its QHD display, Snapdragon 805 SoC, 20.7MP camera, and excellent battery life, it is one of the best-equipped Android smartphones in existence. Better yet, it is a solid device built of premium quality materials – one that anyone who demands the very best would approve of. On the downside, the Droid Turbo is available solely through Verizon, but given how awesome of a smartphone it is, making the switch seems totally justified.
LG G3
In 2013, we crowned LG's former flagship, the LG G2, as the year's best smartphone. This year, we have the LG G3 grabbing a well-deserved bronze award. In fact, it has been one of our favorite Android models ever since we got the chance to review it in June. Back then, it impressed us with the crazy-high resolution of its screen, with the great performance of its camera, and with the elegance of its UI. Plus, we liked how the LG G3 wasn't too hard to wield despite the gargantuan proportions of its 5.5-inch display. Today, the LG G3 is still going strong and is one of the best value-for-money flagships you can possibly get.